While a key intention of the Allan Gray Orbis Foundation is finding great talent and transforming it into exceptional accomplishment, it is essential that members of the Fellowship community are motivated by making a difference, rather than by making money. Anthony Farr discusses how the Foundation seeks out individuals likely to pursue a life of purpose; qualities personified by Founding Patron Allan Gray and the late Professor Jakes Gerwel, first chairman of the Foundation's Board of Trustees.
At the Foundation our raison d'etre or fundamental purpose is to foster entrepreneurship for the common good. 'Common good' is defined in numerous ways; however, American political philosopher Michael Sandel provides an understanding which particularly resonates with the Foundation, when he states: 'The common good means to do what is best for the community as a whole.' For the Foundation this specifically means that the Allan Gray Fellowship community is a community of purpose driven responsible entrepreneurs, who focus on the long-term goals of creating employment opportunities, improving living standards, making strides to eliminate abject poverty and achieving a more equitable society for all. In practical terms, this means, in the first instance, they should be motivated by making a difference rather than making money. It is essential that a business makes a profit, but profit is secondary to purpose.
What then is purpose?
Purpose is the reason for which something is done or created or for which something exists. The definition and pursuit of purpose has lent itself to numerous books and articles describing individuals who personify purpose. For us at the Foundation, examples of these individuals can be found very close to home.
THE FOUNDATION'S SELECTION PROCESS IS GEARED TOWARDS UNCOVERING THOSE OF 'GREATEST POTENTIAL', RATHER THAN EXCLUSIVELY ON 'MERIT'
In 2014, South Africa celebrates the 20th year of becoming a democracy. While this feat was achieved through the collective efforts of a number of individuals, most notably our recently departed Nelson Mandela, we would like to pay respect to the legacy of the late Professor Jakes Gerwel. The founding chairman of the Foundation's Board of Trustees who, through his life's work and achievements in academia, politics and business, personified a sense of purpose which served the betterment of society, creating greater equality of opportunity and access for all South Africans. At the outset of his journey, he had a clear vision for the South Africa of the future. Regardless of the many challenges and obstacles he faced, he remained resolved and determined to fulfil his purpose.
And even closer to home, a key example for us at the Foundation is that of our founding patron, Allan Gray. Regardless of market sentiment or herd mentality, he has remained resolute in fulfilling his purpose. With a firm resolve to create wealth for his clients, and through that having built two successful investment management firms and achieved some financial success of his own, his purpose then extended to creating societal wealth through the Foundation.
Management thought leader Gary Hamel succinctly describes the effect of purpose as follows: 'A noble purpose inspires sacrifice, stimulates innovation and encourages resilience. In so doing it transforms great talent into exceptional accomplishment.' There can be few better descriptions of the intention of the Foundation than transforming great talent into exceptional accomplishment.
How do we define talent?
The challenge, though, may lie more with our initial construct of this word 'talent'. The Foundation's selection approach is geared towards uncovering those of 'greatest potential', rather than exclusively on 'merit' as a means of more truly reflecting our understanding of talent. Potential is more forward looking than merit alone, which is based largely on past achievement. In his 2013 commencement speech at Princeton University, Ben Bernanke observed the following: 'A meritocracy is a system in which the people who are the luckiest in their health and genetic endowment; luckiest in terms of family support, encouragement, and, probably, income; luckiest in their educational and career opportunities; and luckiest in so many other ways difficult to enumerate – these are the folks who reap the largest rewards.' Similarly to the age-old investment adage that past performance is not an indicator of future performance, and however challenging it might prove to be in practice, we therefore look at the underlying potential of the individual as a better indicator of individuals likely to achieve their future purpose.
In reflecting on 2013, the following provides some insights into the Foundation community's progress towards our long-term purpose.
Association of Allan Gray Fellows
This year signalled the end of term for the first Executive team of the Association of Allan Gray Fellows. As the pioneers who assisted in setting up the initial structures for the Association, the outgoing team laid a strong foundation from which the new Executive can only go from strength to strength. We thank the outgoing team and wish the new Executive well as they carry the Foundation's vision forward among the Association members.
In 2014, 48 Year Experience Fellows are expected to join the current 151, making the Association membership 199 strong.
PURPOSE CAN BE SEEN AS SOMETHING WHICH TRANSCENDS THE PAST MERITS YOU HAVE ACHIEVED
Allan Gray Fellowship
Candidate Allan Gray Fellows, in addition to their academic performance at university, participated in international learning opportunities in London and Germany, the Brightest Young Minds Summit and were invited to present at the 6th SA Innovation Summit.
The National Fellowship Jamboree took place in July with some 240 Candidate Fellows converging in Cape Town, with the sole purpose of engaging with experiential entrepreneurial learning and forging strong ties within the community across the various geographic hubs. The guest speaker this year was outgoing FNB CEO Michael Jordaan, who provided some key insights from his own entrepreneurial journey.
The Selection efforts for 2013 have resulted in 85 individuals being offered the opportunity to join the Fellowship community in 2014. This means the Fellowship community will be 250 strong.
Allan Gray Scholarship
At the beginning of 2013, an auspicious milestone was achieved with the first cohort of Allan Gray Scholars entering Matric. At the end of 2013, the Matric class was 17 strong, with nine of them having secured the Allan Gray Fellowship for 2014 during the highly competitive selection process.
In addition to this, during 2013 Scholars in varying grades achieved some of the following accolades at their respective high schools: head of house, prefect, leadership awards and full academic colours. Along with academic performance, three of our scholars have already started exercising their social entrepreneurial muscles through their individual Community Action Projects and received funding from the Enke Incubator Fund.
As reported in Quarterly Commentary 2, 2013, the 2012 Scholars Selection campaign culminated in an additional 30 Scholars qualifying to start high school in 2014. They join the current 155 Scholars at schools across the country, bringing the total number of Allan Gray Scholars on their own journeys toward purpose to 185 for 2014.
Discover your pathway to purpose
In closing, purpose can be seen as something which transcends the past merits you have achieved, the title you hold or the career you pursue. The achievement of purpose for us at the Foundation is guided by one of the Foundation's five Pillars, the Spirit of Significance, which is defined as a weight of personality that comes from living a life personified by passion and integrity. Recognition that ultimate personal satisfaction comes from empowering oneself in order that one might be able to serve others.
It is through the serving of others, seldom better illustrated than in the life of Jakes Gerwel, that one ultimately discovers one's own pathway towards purpose.
To view our 'Year in Review 2013', visit the Foundation's YouTube channel.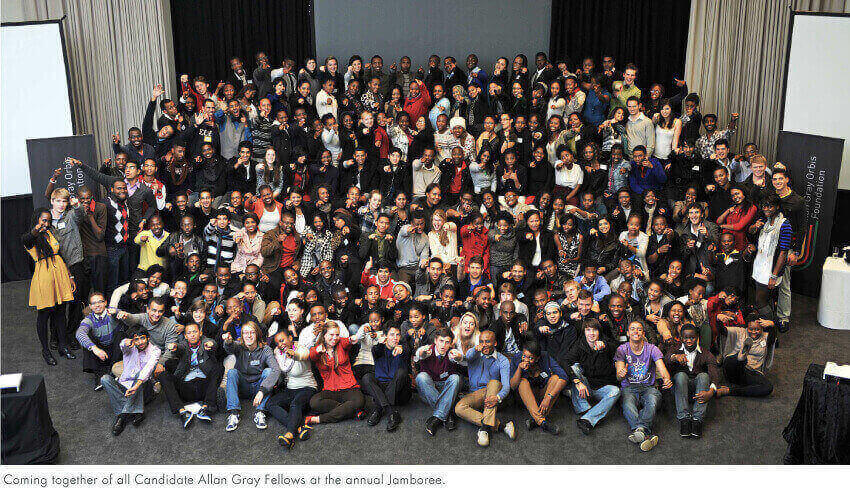 Coming together of all Candidate Allan Gray Fellows at the annual Jamboree.