The Allan Gray Umbrella Retirement Fund
The Allan Gray Umbrella Retirement Fund (the Umbrella Retirement Fund) gives you an umbrella fund done the Allan Gray way. It is simple, transparent, flexible and cost-effective. By joining our Umbrella Retirement Fund, you remove the administrative headache and expense of managing your own retirement fund and get to focus on running your business.
Let us help you and your employees get the best chance of achieving a comfortable retirement.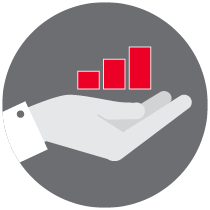 Access to experienced investment managers
Our Umbrella Retirement Fund offers you and your employees access to Allan Gray portfolios and a selection of portfolios from the best investment managers in South Africa, at competitive fees.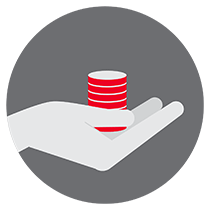 Transparency and value for money
The Umbrella Retirement Fund has a simple and transparent fee structure, which means that you and your employees have clear sight of contributions, returns and charges. Contributions are used for their intended purpose: saving for retirement. Members benefit from competitive administration and investment management fees and there are no hidden costs.
Benefits for employers
Simplified administration and personalised service
Our dedicated support specialists are available to assist you with transfers from your existing retirement fund, if applicable, and with setting up and managing your Umbrella Retirement Fund.
No governance responsibilities
The administration, governance and compliance duties are undertaken by a board of trustees that is appointed by Allan Gray. The trustees are responsible for making sure that the Fund is well run, leaving you free to concentrate on running your business.
Value for money
The costs of running the Fund are spread across all participating employers, resulting in cost savings. The assets of all the schemes in the Fund are combined, which allows Allan Gray to negotiate the best possible investment management fees for members.
Access to experienced investment managers
You can choose one of our two trustee-approved default investment strategies as the default option for your employees. Employees can opt out of the default if they feel it is unsuitable for them and choose from a selection of Allan Gray portfolios and portfolios from the best investment managers in South Africa. Please click here for a detailed explanation of the investment options in the Allan Gray Umbrella Retirement Fund. To help with your decision, you may be interested in consulting the Umbrella Fund Default Investments Survey, an independent, factual report designed to help you make quick and easy comparisons of default investment strategies across multiple umbrella fund providers in South Africa. You can download a copy of the latest available survey here.
Benefits for members
Tax efficiency
Becoming a member of the Fund is a tax-efficient way to save for retirement, as a portion of a member's contribution is tax deductible. Members do not pay tax on any interest or dividends earned in the Fund. Any capital gain realised is excluded from capital gains tax.
Online access and client support
We provide each employee with their own secure online account where they can monitor and manage their investment and our Client Service Centre is available to assist your employees with any questions.
Preservation is easy
If an employee leaves your organisation, they can preserve their savings within the Fund. In this way retirement savings can be kept for their intended purpose: to provide for a dignified retirement for the individual. While these members cannot continue contributing, they can change their investment portfolios as they need to, transfer their benefit to another provider or withdraw all or part of their benefit at any time. Learn more about the options available to members.
Flexibility at retirement
When they retire from the Fund, members will receive retirement benefit counselling, which will introduce them to the Fund's annuity strategies. Members can opt for one of these strategies if it meets their needs and objectives or they can opt for a product from a different provider that will pay them an income in retirement. Members can also choose to take up to one-third of their investment as cash; the rest must be used to purchase a retirement income product. Alternatively, members can preserve their money in the Fund until they are ready to retire.
Joining the Umbrella Retirement Fund is hassle-free
Please contact our Umbrella Retirement Fund team and we will assist you with the next steps:
Tel: 0860 000 870
Fax: 0860 000 655 / +27 (0)21 415 2492
Email: groupsavings@allangray.co.za
See the investment portfolios available in the Allan Gray Umbrella Retirement Fund.