In his inaugural president's letter, Adam Karr, from our offshore partner, Orbis, shares some thoughts about himself, the path forward for Orbis, the market opportunity Orbis sees and what clients can expect.
I write to you today with eyes firmly on the opportunities in front of us.
It is humbling to write this letter, my first as the new president of Orbis. When Will asked me almost a year ago to consider taking over his responsibilities leading our investment efforts, I was both energised and uncomfortable. I was excited to have the opportunity to lead our efforts to deliver world-class results for clients. At the same time, I was uncomfortable given the importance of navigating the firm through a transition, while honouring and extending the remarkable legacy of those who built Orbis.
While it rarely feels like it in the moment, I have found in life, and especially in investing, that embracing discomfort is often an important ingredient for success. So, with passion, I embrace this role with a determined spirit. And I do so because I believe in our future, love this firm, and care about all who depend on us: our clients, their beneficiaries, our affiliated philanthropic foundations, and our more than 400 employees and their families.
Our firm's success begins and ends with delivering best-in-class investment performance
I am driven by a deep commitment to and respect for Will, Allan, the Gray family, and my colleagues. Orbis was founded on an ethos to compete every day to be among the best in the world at what we do. This is clear not only in our long-term investment track record but also in our results-oriented culture, history of innovation, and industry leadership in areas such as client-aligned, refundable fees. That ethos attracted me to Orbis as a young man and inspires me even more today.
I first met Will and Allan at a formative time in my life 26 years ago when they took a chance on me as a summer intern. It was a contrarian choice at that time. During the tumultuous 1999 dot-com era market cycle, I watched as they were criticised for being stubborn and incapable of appreciating the "New Economy." I was struck by their discipline and resilience – even in the face of significant pressure from clients.
In 2002, I joined Orbis full-time because of my belief in them, their aspirations to excel, and to help make a difference. It's a privilege to be part of something bigger than yourself, and I discovered that first-hand from Will and Allan. I remain deeply committed to the belief and ideal that we can make a substantial contribution to the world as responsible stewards of our clients' capital and by delivering world-class performance.
I want to thank Will and the Gray family for this opportunity. The example they have set and the impact they have had through the Orbis and Allan Gray firms, together with their philanthropic efforts, is inspiring.
The best way I can express gratitude is through my actions going forward.
I have had the opportunity to share some of my thoughts with a few clients in recent months, but I recognise that many of you have not heard from me yet. As we embark on this next chapter, I want to start the conversation by sharing some thoughts about myself, the path forward for Orbis, the market opportunity we see and what you can expect.
I believe now is a uniquely attractive time to be an active, high conviction stockpicker globally
Who I am
I was born and raised in the south suburbs of Chicago. I have an amazing wife of 20 years. We have three kids and live in San Francisco. During my middle school years, I was mostly raised by my grandparents and spent a lot of time with my grandfather. He had an indelible influence on me. He was a janitor at a local bank and every evening I would go with him to mop floors and dump out wastepaper baskets. It was in those bins that I found treasure – discarded copies of The Wall Street Journal. Trying to make sense of the charts and reading that funny-looking newspaper at age 10 inspired an insatiable curiosity about companies and a love of the markets. And I always cherished Friday evenings because we would watch Louis Rukeyser's "Wall $treet Week" together. For those unfamiliar, it was a weekly programme for investors on US public television long before CNBC.
These times with my grandfather instilled in me a tireless work ethic, a passion for investing and the value of being in service to others. That inspiration and fire burns just as strong today.
Our path forward
The last few years have been challenging for Orbis, as they have been for many investors with a value orientation. After sailing into the wind in recent years, we are determined to hit the right angle of attack. To do so, we will execute better and adapt where necessary.
I know from personal experience it can be difficult to get stock selections right. In that spirit, let me start with a story from 2018. It was a particularly painful year for me. I directed Orbis Global's investment in Pacific Gas and Electric (PG&E). Not long after making the investment, one of PG&E's power lines sparked a devastating wildfire, which months later caused the company to file for bankruptcy. Within 48 hours of the fire, we sold the entire position but impaired some of our clients' capital.
In hindsight, I made a mistake in my evaluation of the frequency and severity of wildfire risk. The 2018 fire seemed like an extraordinary event – it was the worst wildfire in California's history. But there have since been three more fires that have been even worse. It's clear something important has changed and so must our approach to assessing these risks.
This is just one example, but it illustrates that we have opportunities in our control as a firm to adapt and improve. We can get better at valuing externalities – including climate change – and their potential impact on the intrinsic value of the companies we invest in for clients. While frustrating looking back, these lessons can be embedded in our process to both mitigate risk and identify compelling opportunities.
Why I am excited about the opportunity set
I believe now is a uniquely attractive time to be an active, high conviction stockpicker globally. Since starting my investing career in the mid-1990s, one pattern has been recurring – periods of extremity plant the inevitable seeds of great opportunity. These leadership turning points in stock markets have been rewarding, though difficult to time and even tougher to endure.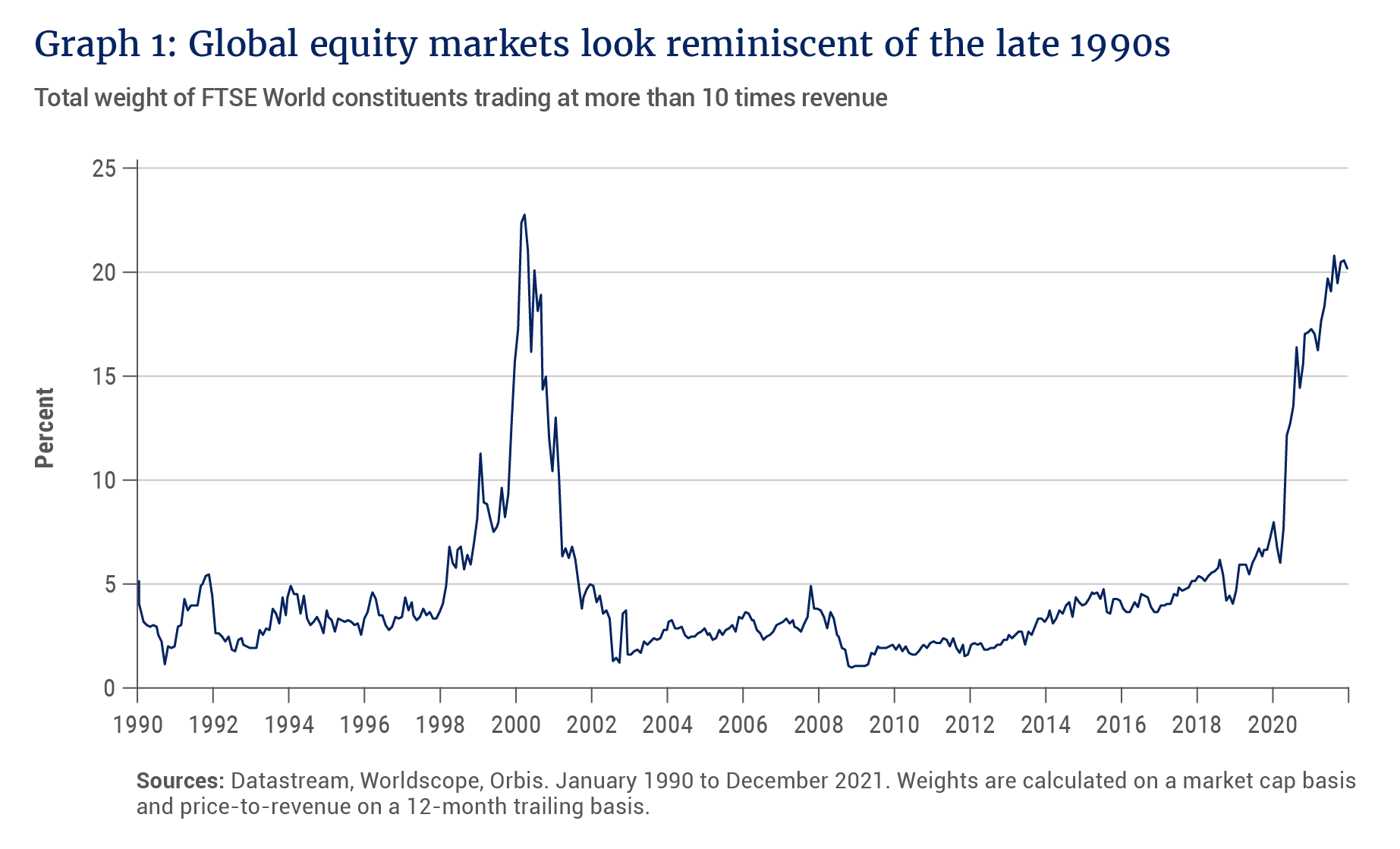 Like the momentum-driven late 1990s that became the dot-com bubble, too many market participants today appear to be investing based on little more than hopes, dreams and memes. Investors' return expectations are high. And once again, investors are being told that valuation doesn't matter. The result is a top-heavy concentration of various indices in (often profitless) glamour growth darlings as well as extreme valuation spreads within and across markets distorted by free money and oceans of central bank liquidity. It's a bubbly time. We hunt for superior value and believe that what you do not own matters as much as what you do. And valuation always matters. That is why I am confident about the opportunity in front of us.
What to expect looking forward
In my initial conversations many have asked "what's going to change and/or what are your priorities?" My thinking has been guided by the framework below, adapted from Michael Mauboussin's "success equation" …
Skill x Execution x Luck = Performance
Luck influences much, including the environment in which we operate. While we must be mindful of this, it is not in our control. There's no use dwelling here or nurturing excuses. It is critical that we focus on our skill, inclusive of making sure we play to our strengths and with a clear identity. And in the near term, I will prioritise execution because it's our biggest prize and in our control.
Specifically, there are three key priorities and messages that I have been highlighting.
Priority 1: Sharpen the saw
We have talented people who are hungry to win, a promising bench and a rigorous core process. But we must always ensure our portfolios come together as effectively as possible for maximum client impact. This means ensuring that: (1) capital flows with appropriate velocity to the most compelling ideas across the globe; (2) we have the best individuals empowered in the right roles to impact client capital; and (3) we offer resources to support our stockpickers to permit maximum focus on what they love doing.
Priority 2: Lead with responsible investing
We have always led, from our founding, with our core values in making investment decisions. One of those values is to act responsibly. These are not just words on a page – they matter a lot – and they are our compass. Still, the world changes and our clients' needs evolve. We have made some great progress in 2021 with our Statement of Principles on Responsible Investing and Stewardship Report, but we need to do more. We will raise the bar on how we engage in all forms of responsible investing while being independent and differentiated in our approach; in particular, how we evaluate externalities (for instance, climate implications). This includes investing in dedicated expertise and processes, which we will discuss more this year.
Priority 3: Exploit our insights
One of our most distinctive characteristics as a firm is our use of and emphasis on paper portfolios. Analysts have their own simulated portfolios that track the performance of their recommendations. The accountability that comes with these paper portfolios – and the performance attribution framework that sits behind – is a strength and compels us to live in the objective data. We will incrementally invest in decision analytics technology (in-house and third party) to continue optimising our investment decisions by examining our patterns and psychological biases. Our chief aim is to use technology to combine our prior knowledge of trading and research process data with common decision-making biases to sharpen our future decisions.
What you can count on from Orbis
It's imperative to also underscore what's NOT GOING TO CHANGE. I believe the core of what we do powers our flywheel. And, thus, it's crucial to affirm that core: our values; putting clients first; alignment; a results-oriented, long-term approach; independent and contrarian thinking; and the discipline of our fundamentals-driven investment process.
Because the priorities above could be interpreted broadly, it is also critical that we narrow our focus in each area to only the most critical drivers and deliver them with excellence. In leading the firm, Darren Johnston and I will strive to be ruthlessly disciplined day-to-day. Harvard professor Frances Frei said, "you must be bad in the service of good." That is, to achieve excellence, you cannot be all things to all people. Importantly, we will communicate. I am excited for you to hear directly from our team and me going forward.
Our leadership team
I am incredibly grateful to have Darren as my partner leading the firm going forward. We have served on the Orbis board together since he joined in 2017 after a long career at PwC. He is a gifted and seasoned leader and will lead our business efforts, assuming the role of chief operating officer. I am excited by the potential of the "trinity" we have put in place: Will leading our board and focused on key strategic matters, Darren driving our client and operations side, and me all-in leading our investment efforts. The important thing to know is that it is a mutually reinforcing structure that will enable us to fortify our focus, play to our respective strengths, enhance execution, and put us in the best position to succeed on your behalf.
To use a real-estate analogy, our "house" remains first-rate, with a prime location, good bones, and a rock-solid foundation. We also have incredibly well-aligned clients. I have been inspired by your trust and the support you have offered in recent years and through this leadership transition. And most critically, we have extremely talented and dedicated people in our team who are hungry to win.
What you can count on from me
Our firm's success begins and ends with delivering best-in-class investment performance.
As it was on day one, I am certain that what we aspire to achieve will not be easy. But how we show up is in our control and we are determined to deliver. Here is my commitment to you: relentless focus; transparent and direct engagement; entrusting others; a culture of inclusion; the courage to be different; an appetite for feedback; and a willingness to change what isn't working. You can expect me to do my part and to ensure that others do theirs. And we will keep showing up every day for you.

With your continued support, we face the future with confidence.

Yours sincerely,
Adam R. Karr