If 2020 was an emotional roller coaster, the first month of 2021 provided a peek inside the darker corners of the funhouse. We remain hopeful that more measured times lie ahead, but also mindful that the turning of a new calendar page only goes so far – and much uncertainty remains. John Christy, from our offshore partner Orbis, explains how our investment process serves as a guiding light, particularly during trying times.
As professional investors, we check our emotions at the door. But we are also human and having a rigorous research process is one way to ensure that we remain disciplined regardless of the chaos that markets might throw at us.
There is no better way to understand this than to take a closer look at how we have spent our time. In 2020, our analysts conducted formal research on 470 companies across all major geographic regions and sectors. The table below shows how this broke down on a sector basis.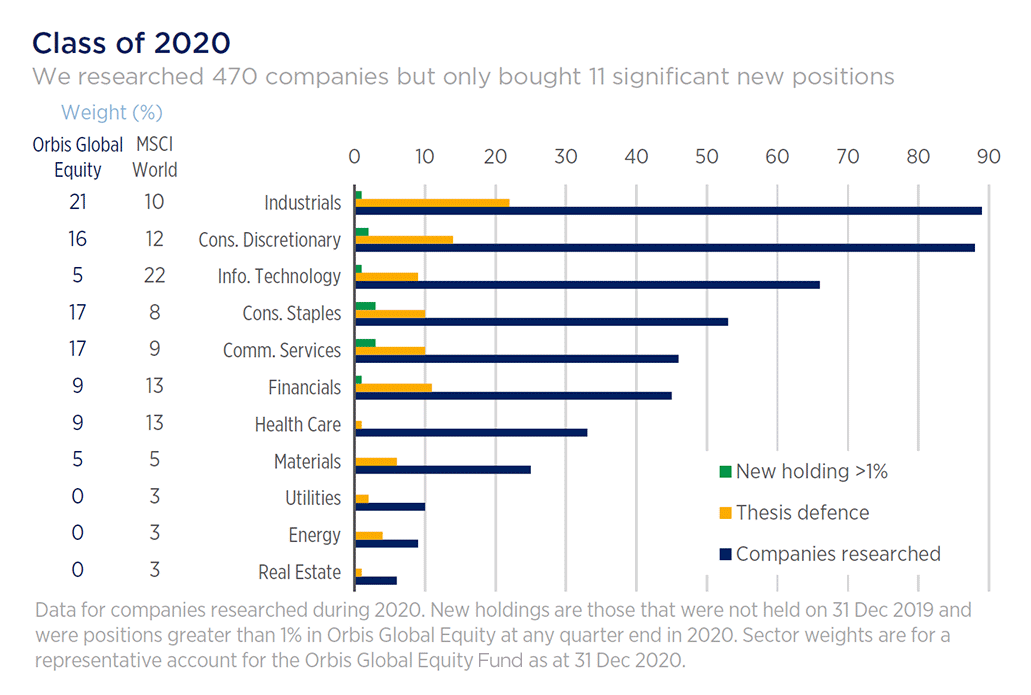 A few themes stand out:
First, although technology generally looks more expensive than it has for some time – and some of the software-as-a-service (SaaS) names look really expensive – we spent a lot of time looking at this area of the market. Not counting ongoing research on our existing holdings, we conducted research on more than 60 new ideas in the Information Technology Sector during 2020. It is a reminder that we never automatically dismiss any area of the market just because it has performed well; nor is there anything that prevents us from owning rapidly growing technology companies if we can find them at attractive prices.
If anything, we devoted even more time than usual to technology stocks to ensure that we weren't missing anything. While Mr. Market is notorious for being excessively enthusiastic – particularly when it comes to evaluating the latest technology or a promising new business model – he isn't always wrong. That's why it is critical to keep an open mind and to look very carefully at the fundamentals of these businesses.
Some notable examples here include Amazon, Netflix and Airbnb. All three were analysed in detail by our investment team and yet we decided to pass on all of them. That's not to say they aren't great businesses – and by no means to say that they won't turn out to be great investments – but we simply found them less attractive than other ideas.
A second interesting theme emerges at the opposite end of the valuation spectrum. As contrarians, we might be expected to spend a lot of time looking for bargains in the cheapest-looking and hardest-hit areas of the market – such as energy or materials. Indeed, we spent a fair bit of time here, but less than you might expect. In many cases we found some obvious risks, such as sensitivity to extreme macro uncertainty, that we didn't believe we would be adequately compensated for taking.
Above all, the biggest pattern that emerges is one of extreme selectivity. Of the 470 new ideas that entered our research pipeline, less than 100 were strong enough to be put in front of a broader group of investment professionals in a thesis defence, and among these only 11 became positions larger than 1% in the Orbis Global Equity Fund. That's a mere 2% "acceptance rate" from the initial pool of candidates – much harder than getting into Harvard!
As businesses, those 11 companies have almost nothing in common. They range from beer and liquor (Heineken, Asahi Group, and Diageo), telecom and broadband services (Comcast and Nippon Telegraph and Telephone), wind turbines (Vestas Wind Systems), a Dutch bank (ING Group), casinos (MGM Resorts International), and theme parks (Walt Disney). Only two (Alibaba and Motorola Solutions) can be classified as technology-related companies – yet neither have been caught up in the euphoria that has swept that sector. From an investment perspective, we believe all of these shares offer compelling value over our investment horizon. At a time when many of the classic alarm bells of speculative excess are blaring all around us, we hope that our clients can sleep well at night knowing that we remain disciplined and focused on the long term.