We are temporarily limiting allocations to offshore assets for Allan Gray Living Annuity and Endowment accounts, effective 14:00 on Friday, 18 December 2020, as we have reached the limit of Allan Gray Life's offshore capacity. This can occur on occasion and, when it does, the South African Reserve Bank (SARB) expects us to work swiftly to rectify the situation.
Why are allocations to offshore assets being limited for these two products?
Your ability to invest in offshore assets within Allan Gray's Living Annuity and Endowment products is subject to the available offshore capacity of Allan Gray Life. Allan Gray Life is subject to an offshore prudential limit of 40% of total assets. The total offshore capacity being used is determined by the mix of local and offshore unit trusts that clients choose, the relative performance of local versus offshore assets, and the level of the rand versus offshore currencies. These factors are currently at a level where Allan Gray Life has reached its offshore asset limit, requiring us to restrict further offshore investments. We will continue to monitor this and will update you when the situation changes. Our goal remains to meet the SARB's requirements, while allowing you flexibility regarding your underlying unit trust choice.
How will this affect your investment?
From 14:00 on Friday, 18 December 2020, you will only be able to invest up to 60% of your total investment allocation into offshore assets. This limit will be managed based on your account's overall offshore allocation, taking into account the offshore allocation in each underlying unit trust.
If you have less than 60% allocated to offshore assets, you will still be able to invest up to a maximum of 60%. However, if you have already reached or surpassed the 60% limit, you will not be able to increase your allocation to offshore assets. You will still be able to transact (additional lump sum contributions, switches in and debit orders), provided your investments comply with the limit after each transaction. Allocation to offshore assets will be limited as follows: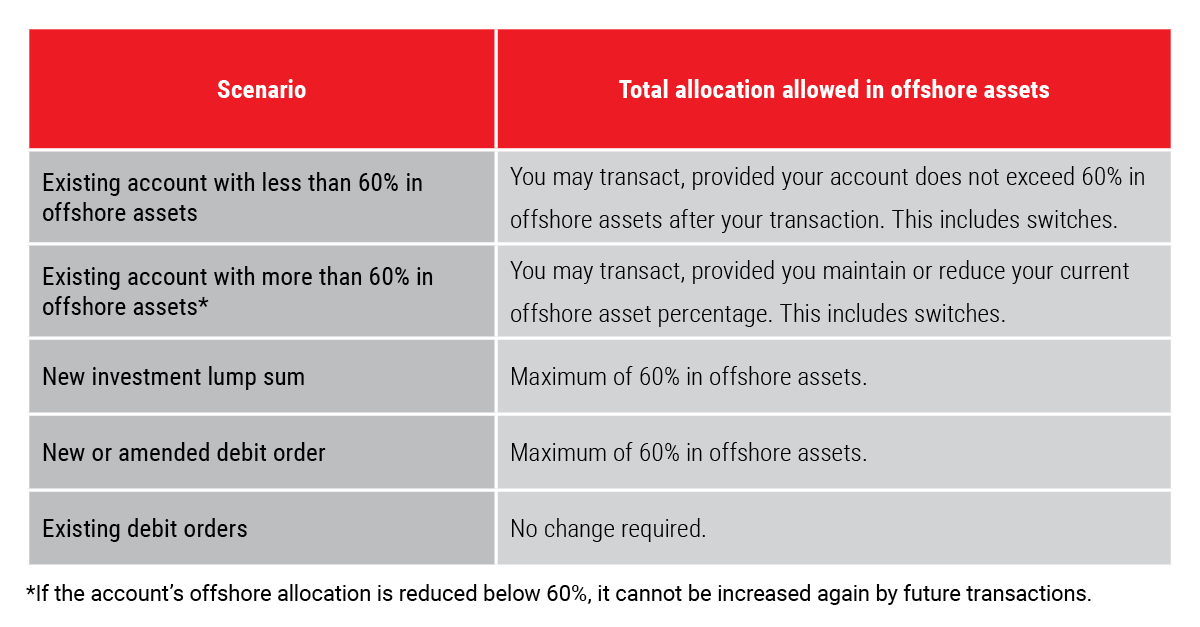 How to determine your allocations to offshore assets
If you are submitting an instruction online, your allocation to offshore assets will be determined and validated as part of the online process. Alternatively, you can use our offshore allocation calculator to determine your allocations to offshore assets.