We are navigating an increasingly complex world in the wake of the pandemic and in the shadow of the Russia-Ukraine war. This brings to the forefront the importance of carefully researching environmental, social and governance risks when evaluating investment decisions. Raine Adams provides a high-level explanation of how we approach responsible investing at Allan Gray. For in-depth details of our approach, including examples, please see our latest Stewardship and Business Sustainability Reports.
Sustainability is embedded in how we invest on behalf of our clients, operate our business, and interact with society.
Integrating ESG factors into our research is intrinsic to our investment philosophy
As long-term investors, we spend a lot of time trying to calculate a company's potential, sustainable free cash flow. Companies that operate unethically or do not appropriately manage their societal and environmental externalities face a greater risk of cash flow erosion over the long term. This can manifest in multiple ways, including regulatory fines, loss of an environmental permit or a company's social licence to operate, or even reduced demand for its products due to reputational damage or shifting societal preferences.
That said, companies have positive and negative environmental, social and governance (ESG) impacts, and forming a holistic view based on these is far more complicated, and at times subjective, than it seems at face value. At Allan Gray, we value independent thinking and strive to do what we believe is right. This does not mean taking a binary view on investments – whether they are "good" or "bad" – and making related portfolio inclusions or exclusions; instead, we believe in taking a balanced approach, recognising that, unfortunately, there are often trade-offs that need to be made between environmental, social and governance considerations.
Tackling climate change is a critical global priority, but in a developing country such as South Africa, the need to address social issues, like socioeconomic inequality and transformation, cannot be ignored. We seek to evaluate these factors as holistically as possible, and the answers are not always so clear-cut as to simply disinvest.
How we approach ESG research
Our ESG research is conducted in-house and integrated into our investment analysis across all asset classes. Investment analysts are responsible for researching material ESG issues relating to the instruments they cover and highlighting these in their research reports. We also have three ESG analysts who assist with monitoring, as well as thematic and detailed company-specific research. Key ESG issues are debated when we discuss investment opportunities and vote on issuer "buy" or "sell" ratings.
… we strive for a carefully considered, balanced and meaningful approach to ESG.
Material ESG risks are factored into company valuations, either by adjusting earnings or cash flow if the risk is quantifiable, or by adjusting the valuation multiple of the company or division if the risk is significant but uncertain. We may also limit the size of our holding in a company or choose not to invest if the ESG risks are significant.
Our portfolio managers are ultimately accountable for managing the ESG risks in our clients' portfolios, but we also report biannually to our board of directors, who provide additional oversight. Our internal research and communication channels are illustrated in Figure 1.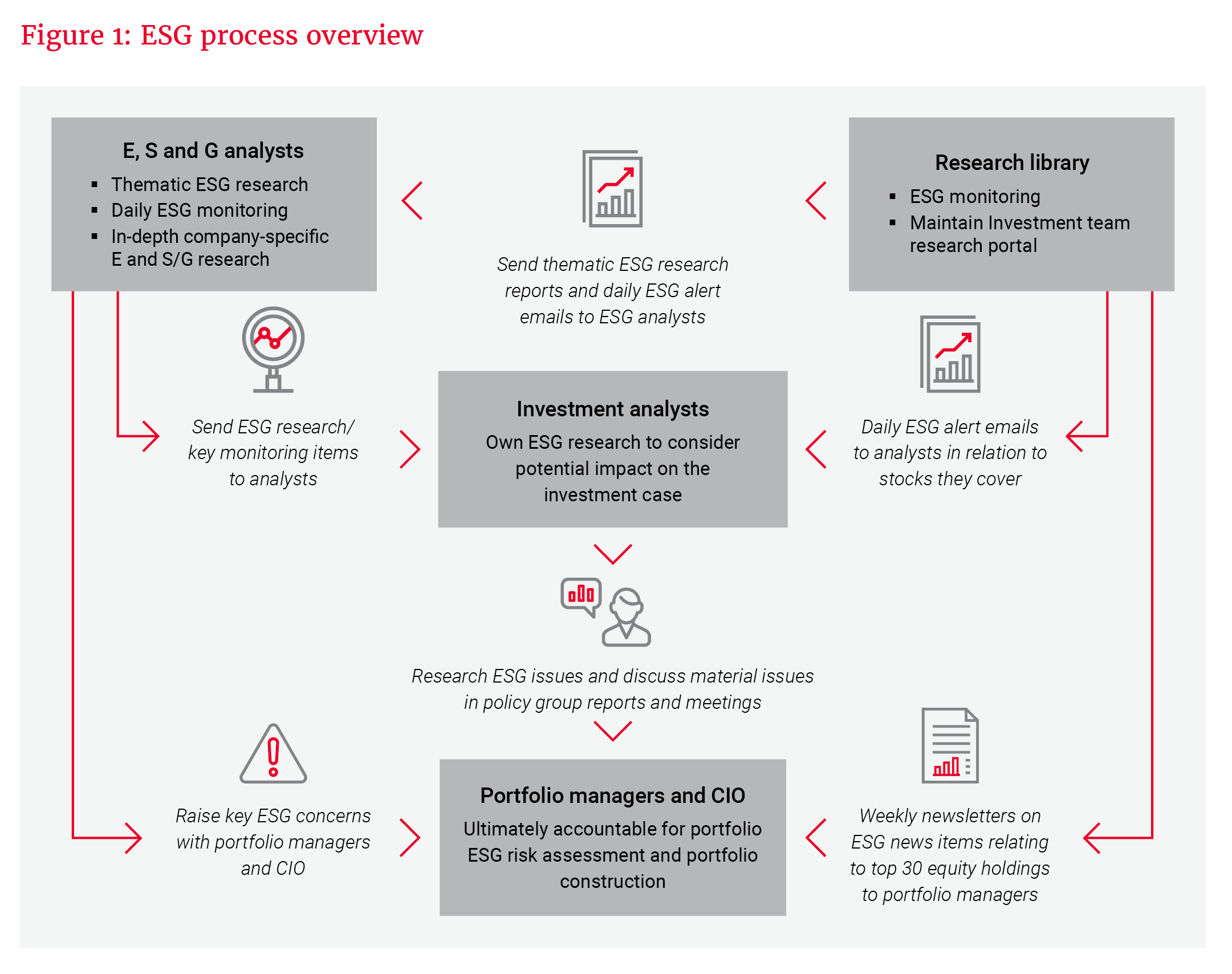 We are active owners once invested
We continue to monitor and research ESG factors once we are invested. This is crucial because ESG issues are dynamic and sometimes concerns may only arise post investment.
Good stewardship of our clients' capital requires truly active ownership. We engage frequently and meaningfully with company boards and management teams and, where we are invested in instruments that have negative environmental or social impacts, we encourage a focus on minimising harm and holding management teams and boards to account.
Good stewardship of our clients' capital requires truly active ownership.
We also think critically about how we vote on behalf of our clients at company meetings. For example, our governance analyst prepared 56 remuneration reports for our Investment team in 2021, which provided a detailed assessment of companies' executive remuneration disclosures, performance conditions and quantum, among other things. We publish our voting recommendations, together with the outcome of the shareholders' vote on each relevant resolution, on our website quarterly in arrears.
In addition to engaging with our investee companies, we actively partake in initiatives that promote sound corporate governance and sustainable business practices.
How we are advancing ESG at Allan Gray
As discussed, we strive for a carefully considered, balanced and meaningful approach to ESG. While incorporating ESG factors into our investment decision-making has always been part of our philosophy, we continue to work on improvements in our approach.
Our recent and ongoing process improvements include the following:
Increasing the number of analysts on our ESG team, which is housed within the Investment team.

Introducing quarterly ESG reports. These address key thematic issues, such as

updates on the energy transition or

benchmarking the incorporation of ESG factors into executive remuneration across sectors.

Rolling out ESG "deep dive" assessments for our clients' top 20 holdings. These will provide granular assessments across multiple E, S and G subcategories, relevant to both the company's sector and individual complexities.

Developing remuneration assessment frameworks to enhance our evaluation of companies' remuneration policies and implementation thereof.

Increased communication with our sister companies, Orbis and Allan Gray Australia, on ESG matters. This includes two quarterly meetings on ESG in the investment case and ESG in regulation and reporting, respectively, as well as climate-focused quarterly meetings.
Increased reporting to our board of directors. We now produce four reports per year for our board subcommittees. This provides valuable independent input and oversight to our team.
Our stewardship activities are geared at achieving good outcomes and, within this, we place particular emphasis on governance. Stronger corporate governance has shown a link to stronger environmental and social performance as well. We remain committed to improving our processes and the effectiveness of our ESG engagements year-on-year.