In light of clear warnings from climate scientists around the potentially catastrophic impact of climate change, a growing number of governments and companies around the world have pledged to be "net zero". However, commitment levels, practical usage and definitions of the term vary. Vuyo Nogantshi, joint head of Institutional Clients, explores the leading net-zero initiatives and highlights the key considerations for responsible investors.
The aim of global net-zero initiatives is to counterbalance the greenhouse gas ("GHG") emissions generated by humans, such as those generated by burning fossil fuels, with efforts aimed at reducing emissions and removing GHGs from the atmosphere. Some of these efforts include forest restoration projects and implementing technologies to remove carbon. Achieving net zero would effectively mean that the amount of GHG produced across the globe is no more than the amount removed from the atmosphere.
The 2015 Paris Agreement's climate goal aims to substantially reduce all GHG emissions to limit global warming to below 2˚C (ideally below 1.5˚C) versus pre-industrialised levels. Its future ambition is to bring GHG emissions down to net zero in the second half of the century.
Achieving net zero requires committed leadership and action across all types of entities, including national and regional governments and corporate entities. Many companies have set out to achieve net zero over different timeframes: Some are aiming to reach this target by 2050 and others, who are more ambitious, have committed to 2040, 2030 and even 2025.
The number of groups that focus on the net-zero objective has grown, with some casting a wide net to generate awareness and others focusing on particular segments or business types, such as asset owners and institutional investors. These entities come together to form a stronger, common voice and work to develop practical approaches and frameworks in their quest to achieve net zero.
Examples of these initiatives include Race to Zero, The Climate Pledge, the Carbon Neutrality Coalition, the Exponential Roadmap Initiative, The Investor Agenda, Net-Zero Asset Owner Alliance, the Institutional Investors Group on Climate Change, We Mean Business Coalition and the Net Zero Asset Managers initiative.
Defining emissions
Corporate entities are facing increasing pressure from activists, shareholders and other stakeholders to make firm commitments and demonstrate action towards achieving net zero. However, not all net-zero commitments are equal.
One of the complexities facing this move to net zero is that the term lacks definition on what constitutes accountable carbon emissions and, as a result, benchmarks vary. It is up to each entity to determine which emissions they include when determining net-zero targets (e.g., GHG emission types, direct emissions only or all material emissions across the value chain). Each company also chooses whether to adhere to an existing standard and process or develop its own.
Achieving true net zero fundamentally requires a real reduction in GHG emissions and permanent removals: Carbon offsets, as an example, do not reduce a company's overall emissions level on their own. In fact, the use of carbon offsets can increase emissions. That said, they remain an important decarbonisation tool to consider as part of a broad-based strategy. As such, companies need to take a holistic view.
Some companies are developing credible net-zero plans, and initial studies indicate that most of the progress made thus far is aspirational but promising, if swift action is taken.
Creating credible decarbonisation plans
There has been much effort expended to develop credible decarbonisation plans that align with the Paris Agreement's climate goals. The Science Based Targets initiative ("SBTi") is one such effort that has garnered global recognition. The SBTi actively works with companies to develop plans which must adhere to approved methodologies based on evolving climate science and are subject to the SBTi's review and approval.
At the end of June 2021, over 1 500 companies with a combined market capitalisation of well over US$21 trillion across 60 countries and approximately 50 sectors had committed to setting emissions reduction targets through the SBTi, as shown in Graph 1. 48% of these companies, accounting for 3.6% of global GHG emissions, have delivered science-based targets which have been approved by the body. SBTi estimates that this could increase to 25% of global GHG emitters over the next five years.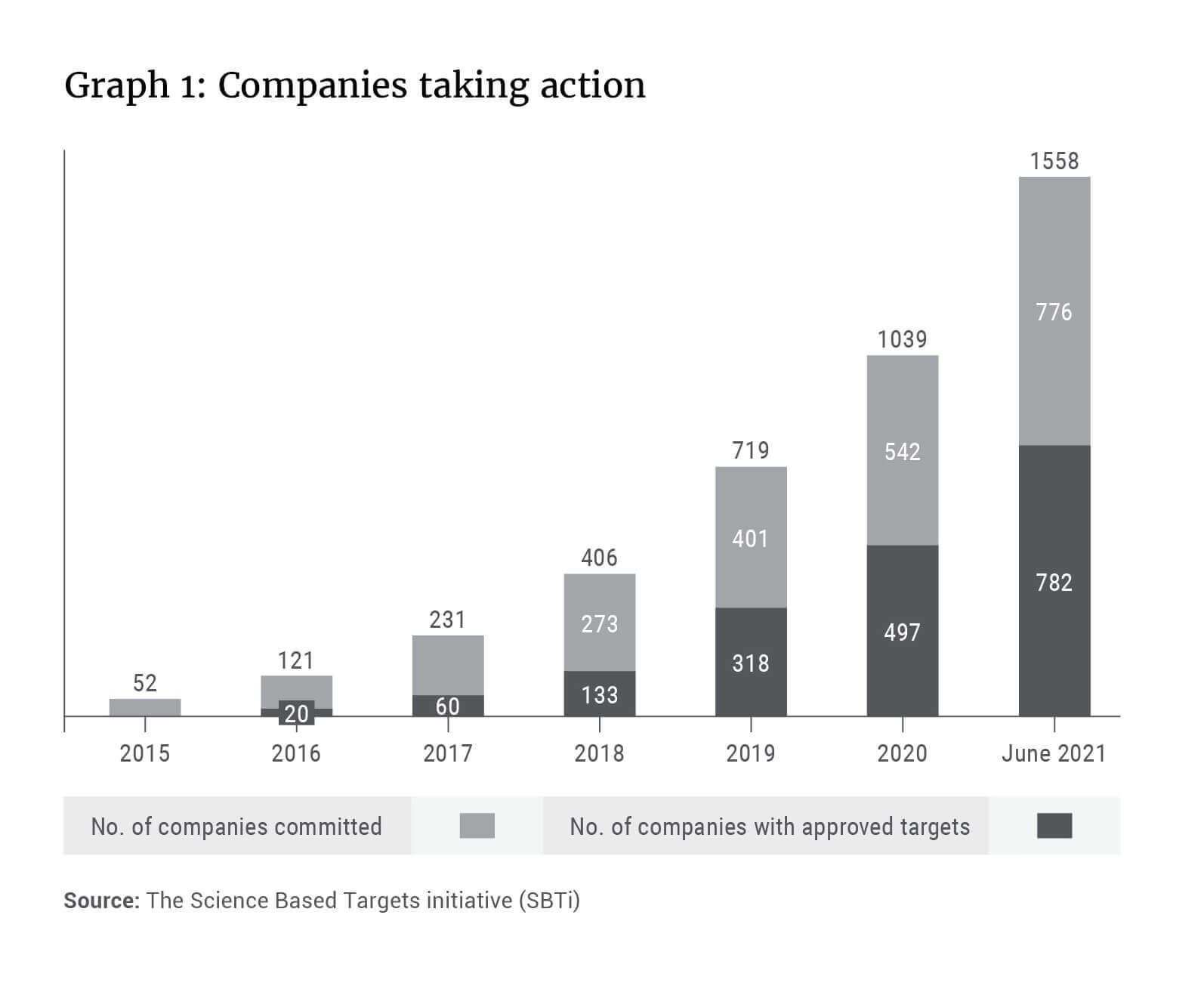 SBTi recommends that companies report on progress and emissions data, through initiatives such as the CDP (Carbon Disclosure Project) and sustainability reports. However, it has not yet implemented mandatory reporting nor a method to validate progress.
The quality of reporting remains a key focus area for many initiatives. The Task Force on Climate-related Financial Disclosures ("TCFD") was set up to improve and increase reporting of climate-related financial information. In 2017, the TCFD released climate-related financial disclosure recommendations to help companies provide better information in their financial reports to support informed capital allocation. These recommendations are structured around four themes – governance, strategy, risk management, and metrics and targets – and are considered best practice for climate-related financial reporting.
Taking action
A March 2021 study by the Energy & Climate Intelligence Unit across countries and companies found that there has been meaningful progress towards net zero, but most pledges and plans remain aspirational. Only a handful of nations and cities have backed up their commitment in law. Among corporates, one-fifth of the companies on the Forbes Global 2000 list have made some form of a net-zero commitment and, of these, just 27% have included all material direct and indirect emissions, i.e., Scopes 1 to 3.
Scope 1 covers direct emissions from owned or controlled sources
Scope 2 covers indirect emissions from the generation of purchased electricity, steam, heating and cooling consumed by the reporting company
Scope 3 includes all other indirect emissions that occur in a company's value chain
The EU rejoined the few nations leading the net-zero charge in June 2021 with the European Council adopting a climate change law that obliges its 27 nations to slash GHG emissions by 55% (from 1990 levels) by 2030. Its overarching aim is to become a net-zero emissions economy by 2050.
Climate Action 100+ is an investor-led initiative to ensure the world's largest corporate GHG emitters take necessary action on climate change. Across the world's largest emitters, Climate Action 100+ identified that 52% of its 159 focus companies have set targets to achieve net zero by 2050. However, only half of these plans cover the full scope of the material emissions.
To supplement the work that these initiatives are already doing, investors are tasked with using their influence to encourage boards to adopt meaningful targets and formulate detailed plans to work towards them.
As a responsible investment manager focused on protecting and growing our clients' wealth, we recognise that climate change is one of the biggest threats facing society and fully support the transition to a low carbon economy and an environmentally sustainable future. Our climate policy statement provides an overview of our thinking around climate change and investing. We engage frequently and meaningfully with company boards and management teams around these issues to ensure that companies are making better environmental decisions and engaging in sustainable business practices.
A panel of local and global thought leaders will be discussing the race to net zero and many other ESG-related topics at the virtual Allan Gray Investment Summit on Tuesday, 14 September 2021. If you have not registered for this event yet, please email info@investmentsummit.co.za or call us on 021 415 7499.