The Allan Gray Orbis Foundation's vision is to create responsible entrepreneurs for the common good. People often ask how the Foundation goes about selecting individuals. In this piece Anthony Farr attempts to answer this question noting that, as with Allan Gray's process for selecting stocks, the Foundation will always be working to improve its answer to this fundamental question.
At its simplest level, entrepreneurial behaviour is about an individual's ability to turn ideas into action. In its search for Fellows to help fulfil its vision, the Foundation looks for individuals who exhibit entrepreneurial behaviour measured against five pillars, which are defined in Table 1. The first two pillars, Intellectual Imagination and Personal Initiative, are character traits of individuals who have the curiosity to originate an idea and the initiative to bring that idea to life. The remaining three pillars - Spirit of Significance, Achievement Excellence and Courageous Commitment - describe the type of ideas that should come from these individuals and the qualities they will need to sustain their ideas.

Greek shipping tycoon Aristotle Onassis used the analogy: 'We must free ourselves of the hope that the sea will ever rest. We must learn to sail in the high winds.' The rate of change we are currently experiencing is not going to slow, the wind will not die down, and so we should adequately prepare ourselves for this reality. The curiosity, adaptation, critical thinking and problem solving that comes with 'entrepreneurial literacy' is the best possible preparation for the uncertain age of the knowledge-based economy. If we are to develop our country's human capital and to aim that its potential is maximised, then this new literacy is a key competence for every citizen.
This was explained by Jonathan Ortmans, President of Global Entrepreneurship Week, when he stated: 'Entrepreneurship has been transformed from a subject of narrow commercial significance into one of substantive cultural consequence that signifies the potential of human endeavour for the benefit of all.'
This shift has even been experienced in one of the cornerstones of education, with the revision in 2001 of Bloom's Taxonomy of cognitive or thinking skills. In Bloom, previously 'Evaluation' stood at the top of the pyramid as the highest level of thinking skill. This has now been replaced as the highest order thinking skill by 'Creating'. The connection between creating and 'turning ideas into action' is immediately evident. It is no longer sufficient to aim for thinking skills such as remembering, understanding and applying that are tied into numeracy and literacy and ultimately support evaluation. We need to aim for education that empowers us to move into the realm of creating - the way of entrepreneurial literacy.
Reflecting on 2014, Table 2 provides some indication of the Foundation's progress and the initial outcomes of its selection according to the five pillars.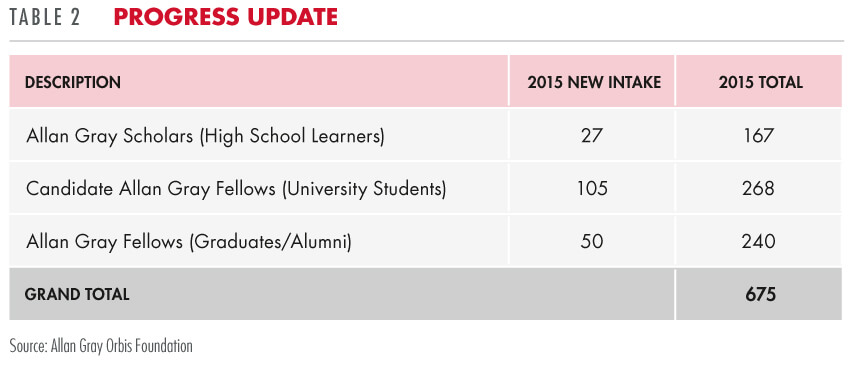 Association of Allan Gray Fellows
The Association of Allan Gray Fellows had a full year with the highlights being the launch of peer learning groups across the country, a successful Leadership Seminar in Johannesburg and a Start-Up Weekend in Cape Town. The best three business ideas from the Start-Up Weekend went through to compete at the E2 Seminar later in the year. The winning idea at the seminar was a concept for an HIV home-testing kit, which could have a significant impact in its sector. E2 provides subsidised equity financing to qualifying Allan Gray Fellow new business owners from the dividend flow of Allan Gray Proprietary Limited.
Recently, as part of the Global Entrepreneurship Week that is active in over 140 countries seeking to develop entrepreneurship culture, two Allan Gray Fellows spearheaded a campaign known as #MakeR100, in which South Africans were challenged to gain exposure to entrepreneurship in a non-threatening manner by finding a way to make R100. From surfing lessons, health smoothies, scarves, books, to accounting expertise and brand consulting there were wonderfully diverse responses to the challenge. The seventh cohort that will graduate at the end of 2014 is expected to add a further 50 Allan Gray Fellows to the growing Association.
Allan Gray Fellowship
In its ninth year of operation the Fellowship highlights included the outstanding performance of Candidate Allan Gray Fellows in the Mandela Rhodes Scholarship. Of the 40 Mandela Rhodes Scholars chosen in 2014 from across Africa, nine were either Allan Gray Fellows or Candidate Fellows. In addition, one of our Candidate Fellows was selected out of applicants from 27 different countries across Africa as one of She Leads Africa's Top 10 young female entrepreneurs, resulting in her attending the final event in Lagos, Nigeria.
THE ALLAN GRAY ORBIS FOUNDATION'S VISION IS TO CREATE RESPONSIBLE ENTREPRENEURS FOR THE COMMON GOOD
The flagship event of the Fellowship year was the annual Jamboree where all Candidate Fellows from across the country come together to consolidate their entrepreneurial learning. The event concluded with the 10 best ideas for an enterprise being pitched to an external panel, in quality presentations, which continue to show improvement each year. The top three ideas included an opportunity harnessing the potential of home automation, a platform for student financial understanding and brand building, and a local clothing brand. To view our 2014 Jamboree highlights visit the Foundation's YouTube channel.
This year's annual Principal's Conference for Circle of Excellence Schools was hosted in Grahamstown at Rhodes University, in partnership with the Allan Gray Centre for Leadership Ethics. It has been an encouraging journey with these principals, as there has emerged over the years a growing understanding of the importance of entrepreneurial literacy in their schools. For a full list of the current 100 Foundation Circle of Excellence Schools, please click here.
Allan Gray Scholarship
In its seventh year of operation the Allan Gray Scholarship completed another selection campaign, awarding a further 27 Scholarships.
During the year two teams containing Allan Gray Scholars made it to the final of the Innovate SA 'InChallenge', a platform to ignite creative thinking, to nurture invention and encourage entrepreneurial mindset among young people. In addition, 18 Allan Gray Scholars were chosen to participate in the Enke Trailblazer Youth Leadership Programme.
At the end of 2014 a further nine Allan Gray Scholars from the Matric cohort were selected as Candidate Allan Gray Fellows for 2015.
Counting our days
Any long-term journey is not without its setbacks and this year we were deeply saddened by the death of an Allan Gray Fellow and a Candidate Allan Gray Fellow. Both of these individuals were set to make a significant mark on the future. While we can never fully understand the reason for such tragedies, we can commit to ensuring that their deaths are not forgotten, through using the memory of their inspirational lives to spur us to even greater commitment to our mission. Their lives being cut short so early, serves as a powerful reminder that we all are only given a certain number of days and we need to make them count. Living each day with greater entrepreneurial literacy is a powerful way of ensuring they do.
If you are interested in more regular reflections on the Foundation's entrepreneurial journey, please sign up to our blog.