The Jakes Gerwel Fellowship, an independent and aspirational initiative birthed out of Allan Gray Orbis Foundation Endowment, is committed to creating a pipeline of high-impact, expert teachers and educational leaders. Jeremy Gibbon looks at the state of education both in South Africa and globally, and discusses how the Fellowship aims to achieve its vision.
There are very few important issues in our country that carry any measure of consensus, yet the state of education is almost certainly one of them. Regardless of one's political views or socio-economic vantage point, there is a shared belief that our current system is failing most of our children at the very basic level of literacy and numeracy, let alone supporting the development of our future knowledge workers or providing the foundation for the social transformation we so desperately long for.
Of the top ten positive influences on a child's learning, eight of them relate directly to the influence of a teacher
As a country, we are not alone in facing these challenges. Matthew Hood, director of the Institute for Advanced Teaching in the UK, recently remarked: "Every education system around the world faces two major challenges: closing the stubborn achievement gap between disadvantaged children and their wealthier peers, and ensuring that young people leave compulsory education with the knowledge, skills and characteristics they need in order to thrive in the modern world. Failure to address these challenges is morally indefensible and economically unsustainable."
A tale of two education systems
The post-apartheid government in South Africa has made significant strides in terms of access to education with almost universal attendance at primary school level. In terms of funding, over 20% of the national budget is allocated to education and these funds are distributed in a reasonably equitable manner across provinces. However, the quality of the former and the efficiency of the latter still leave much to be desired.
Dr Nic Spaull, senior researcher at Stellenbosch University, notes that when considering data sets from the South African education system, the "phenomenon" of two education systems presents itself in the form of what is called a bimodal distribution". Reading scores that he calculated from the 2007 Southern and Eastern Africa Consortium for Monitoring Educational Quality (SACMEQ) assessments illustrate the point well, with the wealthiest quartile significantly outperforming their poorer classmates, as shown in Graph 1.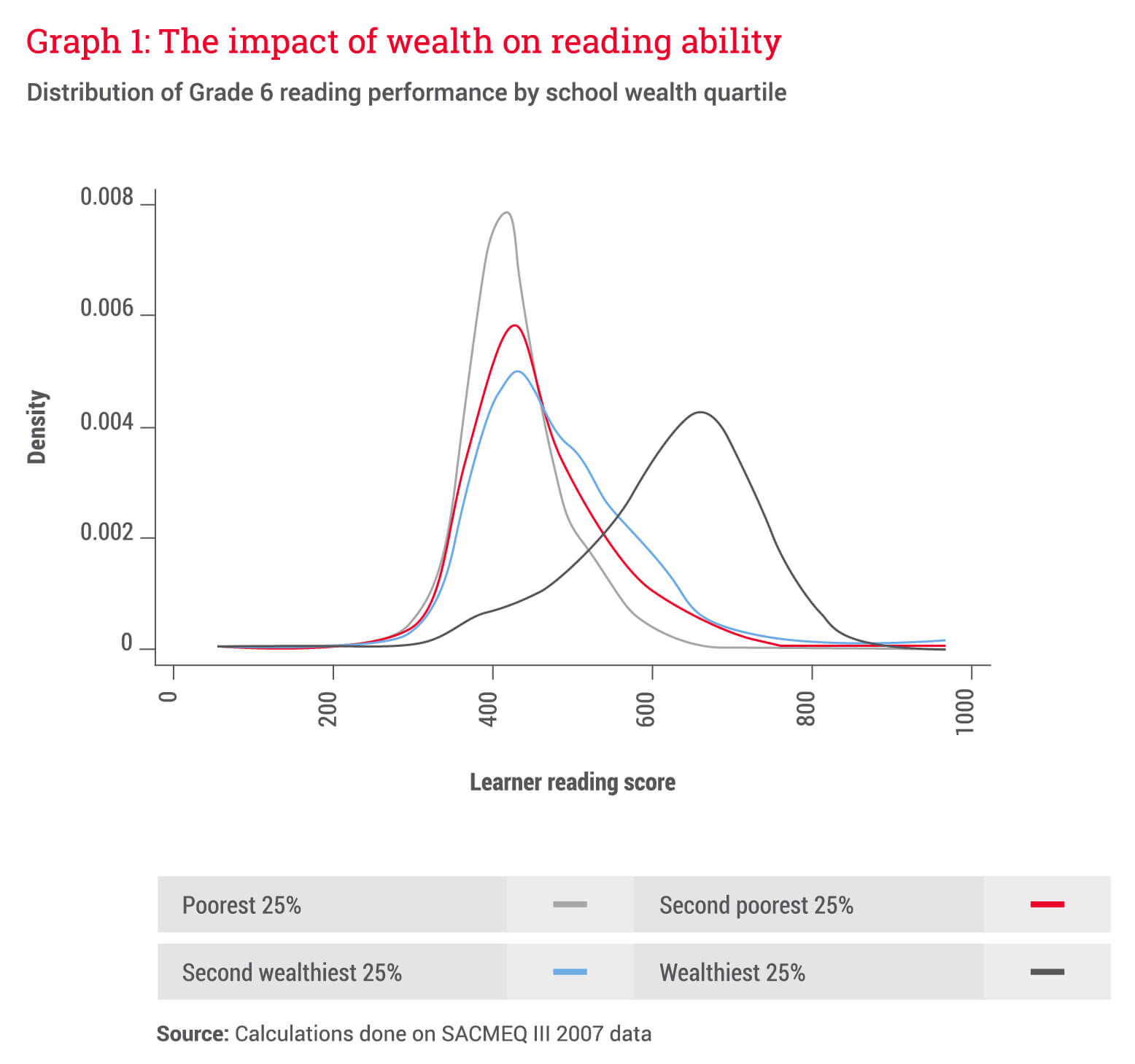 South African children consistently perform extremely poorly in almost all international scholastic tests. What is often ignored in these findings is that even students in quintile 5 and independent schools achieved average scores in the 2011 Trends in International Mathematics and Science Study (TIMSS) assessment that were below the centre point of 500 for Mathematics (see Graph 2).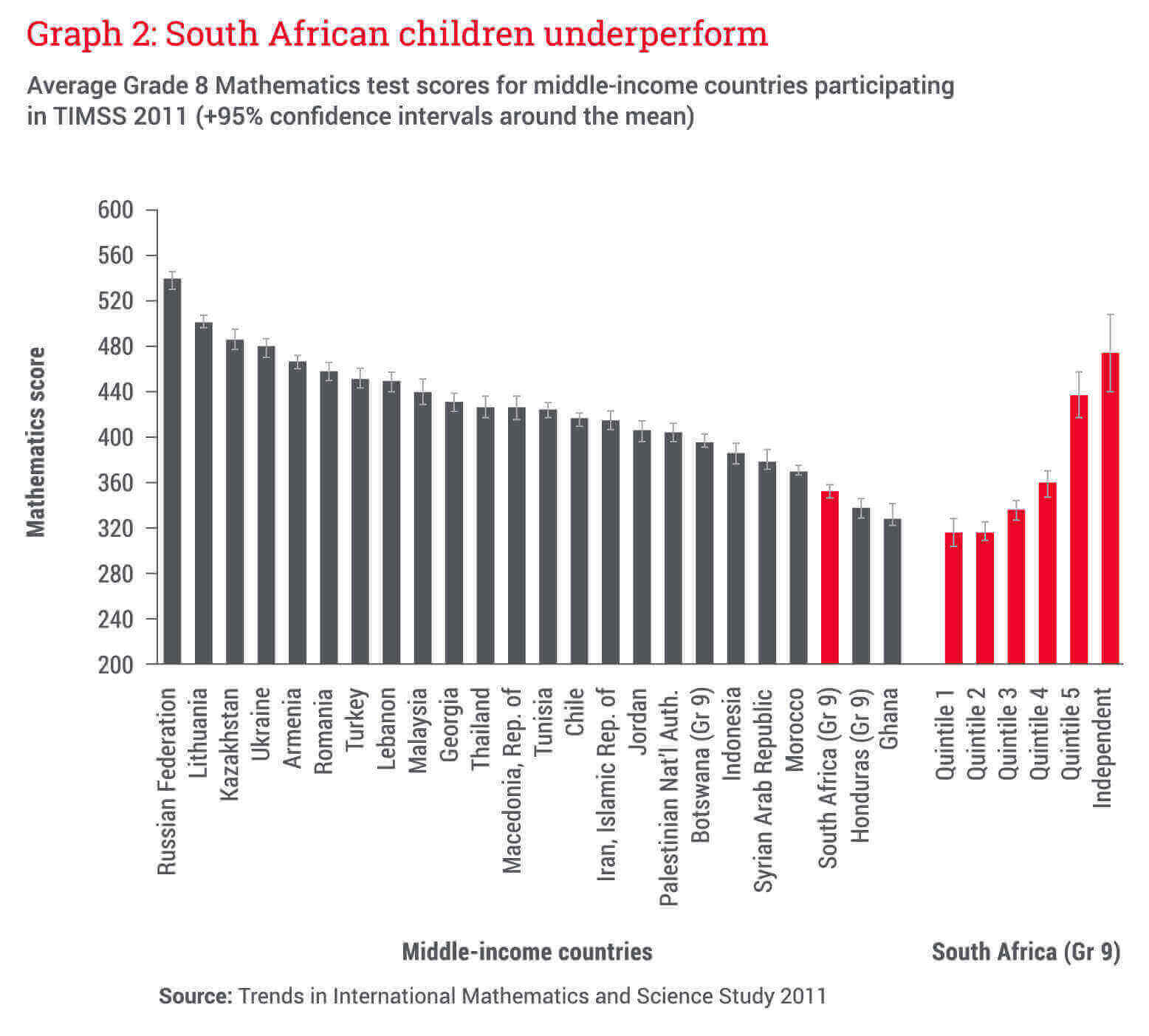 These are particularly worrying as they were written by SA students in Grade 9, rather than in Grade 8, as intended, and their scores only place them on a par with their peers in middle-income countries such as Kazakhstan, Lithuania and the Ukraine – still well below the top performers such as Korea and Singapore.
Addressing the challenges
The three local philanthropic entities established by Allan WB Gray – Allan Gray Orbis Foundation (Foundation), E2 and Allan Gray Orbis Foundation Endowment (Endowment) – have been working for over a decade to address the challenges of unemployment and inequality. The Foundation is committed to creating a pipeline of high-impact, responsible entrepreneurs who will contribute to positive economic, social and political change. It has demonstrated measurable and strategic impact by identifying, selecting and investing in individuals who show potential for responsible entrepreneurship through scholarship and fellowship opportunities. The continued success of this entrepreneurial pipeline is heavily dependent on an effective education system.
So in 2016, the Endowment committed to creating a brand new, independent and aspirational teaching initiative, named the Jakes Gerwel Fellowship, in honour of the inaugural chairperson of the Foundation and an education icon of his time. In response to the education crisis we face in South Africa, the Fellowship aims to develop the very best students to become the expert teachers, education leaders and social entrepreneurs of the future.
With so much dysfunction in our current education system it is tempting to bypass the established structures and attempt to create change through after- school programmes or technological interventions. While such a great challenge requires a multitude of interventions, at all levels, research consistently identifies the pivotal role that expert teachers play in improving learning outcomes for students.
Prof John Hattie, director of the Melbourne Education Research Institute, published a seminal ranking of various influences related to learning and achievement that had been identified through the largest meta-analysis ever performed in this area. He identified that of the top ten positive influences on a child's learning, eight of them relate directly to the influence of a teacher.
McKinsey's 2007 study, How the world's best-performing schools come out on top, found that two of the three things that mattered most were getting the right people to become teachers, and developing them into effective instructors.
Our best students today should become our best teachers of the future
In light of these findings, the Jakes Gerwel Fellowship aims to empower passionate individuals with subject matter expertise and pedagogical content knowledge to become expert teachers. Through effective communities of practice, their influence will be amplified to mobilise broader systemic change.
One of the challenges the Fellowship team is addressing is to promote the teaching profession as an aspirational vocation for high performers; fostering the belief that our best students today should become our best teachers of the future.
Fellowship update
After an extensive national marketing campaign, the Fellowship team collected applications from over 300 high-performing Grade 12s. One hundred of these were recently interviewed and a final elite group of 50 aspirant teachers will attend a selection camp before the final cohort of inaugural Candidate Jakes Gerwel Fellows will be announced later this year.
At full strength, the Fellowship intends to select up to 60 aspirant teachers per year. Over time, this will allow for a professional community of over 1 500 expert teachers and education leaders who will be focused on creating systemic impact on the broader education environment.
The students will begin their degree studies at the University of Cape Town and the University of Pretoria, the two partner universities, at the start of 2018 and eventually complete a Postgraduate Certificate in Education to qualify as teachers.
The heart of the fellowship's ambition is to inspire a groundswell of social transformation, one classroom at a time.
A comprehensive programme will wrap around the students during their four years at university to provide personal and leadership development, as well as mentoring and coaching by some of South Africa's best teachers in our top schools. Students will spend regular time inside these high-performing classrooms to learn their craft from the very best. Experiential learning opportunities in a variety of exciting and innovative environments across the country, through Africa and around the globe, will stimulate and inspire the Fellows to develop a global perspective with a local focus.
Preparing teachers for where education is going
One of the Fellowship's foundational values leans on the notion described by the famous Canadian ice hockey player, Wayne Gretzky, who attributed his phenomenal success in the sport to always trying "to skate to where the puck will be".
In this spirit, the Fellowship is committed to preparing teachers for where education is going, rather than where it currently is. That is, preparing for the role that virtual or augmented reality and artificial intelligence will play, the insights from neuroscience that will change our approach to learning, and the increasing focus on developing learning competencies or modalities that will allow our children not only to cope, but to flourish in the future that they will inherit.
The heart of the Fellowship's ambition is to inspire a groundswell of social transformation, one classroom at a time. If South Africa is to realise the dream of all her children flourishing and equipped to thrive in the modern world, regardless of socio-economic position, then it will be the cohort of expert teachers and education leaders who will show the way.