Tenacity, resilience and perseverance – the very qualities that helped the Allan Gray Orbis Foundation navigate the challenges presented during 2020 – were summoned again in 2021 to help deal with even more turmoil and uncertainty. Yogavelli Nambiar, CEO of the Foundation, takes us through the highs and lows of another pandemic-affected year.
With all that unfolded during 2020, many of us looked forward to the new year with a sense of relief combined with anticipation of better things to come. Unfortunately, it didn't take long to realise that many of the challenges experienced were set to persist, especially those related to COVID-19, which continued to place pressure on our lifestyles and the economy. With the riots during 2021 adding to the distress, it became clear that our difficulties were far from over.
Individuals and organisations around South Africa have been affected in several ways by these challenges, and the Allan Gray Orbis Foundation is no exception – especially since the beneficiaries we serve in our Scholarship (for high school learners) and Fellowship (for university students) have been affected by issues such as school closures, online learning and the impact of job losses within their families. This has meant that we have had to find new and innovative ways to hold up the standard and quality we strive for, while creating different avenues to offer support beyond our usual mandate.
We believe that amid the chaos and continued uncertainty, opportunities have emerged for us to learn and grow our interventions to develop high-impact, responsible entrepreneurs. We have, in fact, mirrored the entrepreneurial mindset that we hope is inspirational to the young people with whom we work.
A focus on inclusion
In addition to the challenges faced, there is an ever-increasing need to ensure that we deliver on our mandate: ensuring that we contribute to an economy that is fully inclusive and that provides opportunities from which all can benefit.
Our organisation is ideally placed to democratise entrepreneurship education to ensure that it is accessible to all, particularly those in lower quintile schools. Through innovation and creativity, the Allan Gray Entrepreneurship Challenge (AGEC) uses gamification to provide schoolgoing learners across the country, at no cost, with access to entrepreneurial thinking and problem-solving, as well as the development of entrepreneurial competencies. Learners have fun while developing critical skills that will help them to begin an entrepreneurship journey that they may never have imagined. That is quite powerful, especially given the global need for disruptive solutions to increasingly complex problems.
Our organisation is ideally placed to democratise entrepreneurship education to ensure that it is accessible to all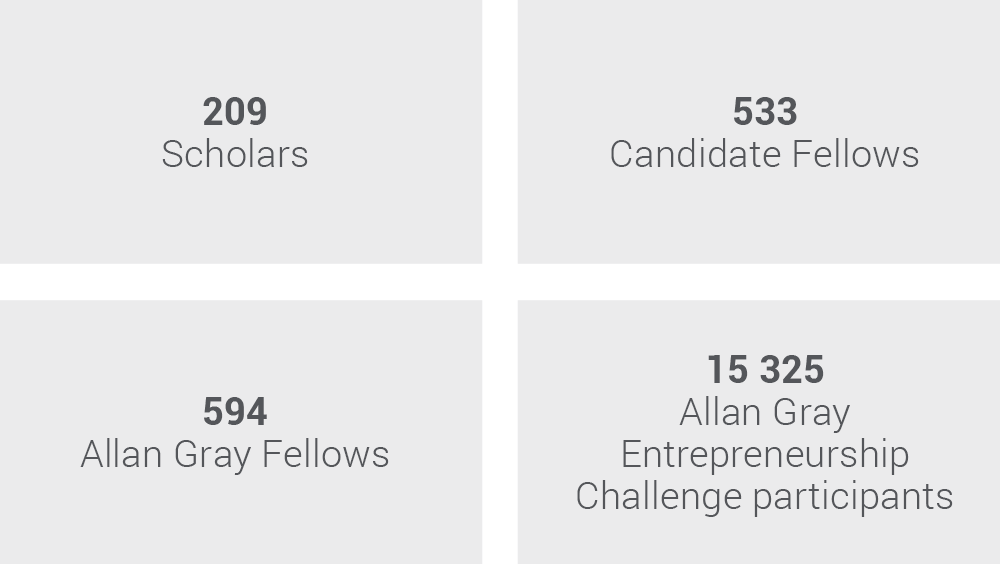 The purpose of this mandate is to ensure that everyone has access to information and the opportunity to participate meaningfully and is not put off by the ever-changing environment. The advent of the Fourth Industrial Revolution has catapulted entrepreneurial thinking and problem-solving, and it is our role to cultivate, nurture and support those who have all the potential to make this a reality.
To do this, we have to go further back in the "pipeline" – in our case, to those in the Scholarship. If we are to ensure greater retention rates, so that the Scholars who join our programmes get selected onto the Fellowship and then graduate into the Association of Allan Gray Fellows (for university graduates), we must equip them with the skills they require to navigate an environment made increasingly complex by the global pandemic, a sluggish economy and rapid technological advancements.
Our academic partners are key to ensuring that our programmes reflect best practice in entrepreneurial education. Furthermore, it is critical to note that in the education process, we are dealing with unique individuals who require much more than academic support. Understanding that mental wellness is a key component of an individual's well-being, we have developed a holistic wellness programme that offers support through our curriculum, as well as supplementary services such as psychosocial assistance for the participants. This is carried through to our Candidate Fellows at universities, for whom these issues become even more real as they grapple with the impending entry into the working world.
our endeavours have indeed contributed to the establishment of businesses that are changing the business landscape in South Africa and beyond
Further along the journey, we find that issues such as diversity and inclusion impact Fellows in various environments, and customised support becomes especially crucial. An example is the bespoke interventions created for our female entrepreneurs.
Our programme is premised on selecting high-potential, qualified candidates for whom we can provide entrepreneurship education and training and support, based on best practice and in line with global trends. To this end, we are working to finalise our refreshed strategies and processes: Our Entrepreneurship GPS creates pathways for entrepreneurial success by using predictive modelling to guide the entrepreneurial development and venture-building journeys of participants, while the Foundation Way is an evidence-based approach that determines whom the Foundation selects, how we develop Scholars, Candidate Fellows and Fellows, how we measure that development, how we guide beneficiary journeys from ideation to start-up, and the ecosystem that we build around them to improve their likelihood of success. Furthermore, we are exploring new ways to scale the Allan Gray Entrepreneurship Challenge in all markets (primary and high schools, as well as tertiary institutions).
A shining light
These are lofty goals, and we have some way to go, but rather than allowing ourselves to be overwhelmed, we would like to look at what we have already achieved through our Fellows. After all, their accomplishments are a clear sign that, while the road ahead of us may still be a long one, we have already travelled a great distance. It is heartening to note that our endeavours have indeed contributed to the establishment of businesses that are changing the business landscape in South Africa and beyond.
Allan Gray Fellows continue to demonstrate that they are dynamic, ethical, responsible and impactful changemakers
Go1, a company co-founded by Allan Gray Fellow Melvyn Lubega, is a fine example. This educational technology (edtech) enterprise achieved unicorn status (a term indicating the rare accomplishment of reaching a valuation of more than US$1bn) this year, raising US$200m to boost its curated enterprise learning programme. An inspiring feat, but more remarkable still because Melvyn has maintained the international company's footprint in South Africa, where it is adding immeasurable value to our communities through job creation, employing over 200 staff.
Daniel Ndima is another one of many Fellows who has done us proud, being named one of this year's Mail & Guardian 200 Young South Africans for his work in COVID-19 testing. The rapid testing kit developed by his company, CapeBio, has recently gained approval from the South African Health Products Regulatory Authority (SAHPRA). This means that many more South Africans will have access to affordable testing – a development which has critical implications for our response to the pandemic.
Payment platform Yoco's advertising campaign speaks of the company's wish to "support the underdog" in any way possible. Co-founded by Allan Gray Fellow Bradley Wattrus, this is a brand, and an ethos, which speak directly to our own aims. Yoco's payment solution for small businesses recently secured US$83m in Series C funding and has indicated its intention to bring on board 200 more employees, making it significant not only in terms of job creation, but also as a vehicle that empowers (and powers) small businesses. It is especially exciting to see this business poised to go beyond South Africa's borders.
Congratulations must also go to Khula, co-founded by Allan Gray Fellow Matthew Piper, for obtaining US$1.3m to scale its software-for-agriculture platform. This is a business which supports other enterprises by helping small-scale farmers gain access to markets. Again, this is an outstanding example of the type of entrepreneurship we strive to foster, as envisioned by Mr Allan Gray: entrepreneurship for the common good.
Finally, kudos to Fellow and filmmaker Phumi Morare, the 2021 Student Academy Awards winner, 2021 Academy Awards nominee and BAFTA Student Film Awards nominee, whose film Lakutshon' Ilanga has made headlines as a tribute to everyday heroes.
An inspiration to our onward journey
It is always heartening to see our Fellows doing well. While there are many factors that contribute to a successful venture, including the incredible drive and talent of these young entrepreneurs, this adds to our conviction that entrepreneurship education is vital and highly relevant in the current context.
Allan Gray Fellows continue to demonstrate that they are dynamic, ethical, responsible and impactful changemakers who care about making a positive difference in the country. This is the type of entrepreneurship we want to see take root and flourish.
We thank these entrepreneurs for setting a stellar example, despite the harsh social and economic conditions, and serving as ambassadors for what is possible through entrepreneurship education. We look to them to provide inspiration, as their light guides the way. They will encourage us to persevere, no matter the difficulties that lie ahead.
My wish for our programme participants for 2022 is for them to embrace what lies ahead, and to know that they are capable and have the power to drive their own destiny. Indeed, as an integral part of the Foundation, they have the drive, ambition, humility and compassion for humanity to envision a future that will take us forward, building a platform for prosperity, contributing to the growth of the economy, and supporting the individual journeys of those around them.