EXECUTIVE SUMMARY: Increasing evidence points to the effect that high-impact individuals can have on an economy. With its focus on growing leaders and entrepreneurs, the Allan Gray Orbis Foundation aims to display over time how going deep but only touching a few can have far-reaching positive consequences. It is possible, it seems, to believe in the 'power of one'.
Organisations in the social sector have to choose between using their resources to reach large numbers with a limited intervention, or going deep but only touching a few. While the Foundation has now reached over 400 beneficiaries across its various programmes, it sits firmly in the latter camp. And so it has been interesting to note increasing evidence pointing to the impact that the few can have on an economy, particularly in the Foundation's field of high impact leaders and entrepreneurs what one might term, the 'power of one'.
On a visit to South Africa at the end of last year, Professor Dan Isenberg, a global expert on fostering entrepreneurial revolutions, made the claim that cities, or even countries, need to produce one high-potential entrepreneur for every 100 000 people to tip into high growth. On this basis, Johannesburg would require just over 30 every year. At the same time, Kauffman Foundation president Carl Schramm holds that 'the single most important contributor to a nation's economic growth is the number of start-ups that grow to a billion dollars in revenue within 20 years.' An additional 50 of these per annum would permanently increase the growth rate of the US economy by 1%. Based on the relative size of the respective economies, South Africa would need only an additional one per annum to have a similar impact. So it seems that, at least in the area of entrepreneurial endeavour, it is possible to believe in the power of one.
Centre for Values-based Leadership
While impact is important, the nature of that impact is even more important. For this reason, we are excited to report that the UCT Graduate School of Business (GSB) has established a Centre for Values-based Leadership, in association with the Allan Gray Orbis Foundation and through sponsorship from Allan WB Gray himself. The centre is the first of its kind in South Africa and will increase the priority of issues of sustainability and values-based leadership in the country and beyond. It follows an agenda formed by both the GSB and the Foundation with the goal to explore new ways of doing business that will be good for business, good for society and good for the environment. We look forward to the contribution that this centre can make to the Foundation's objective of growing young leaders.
One of our Allan Gray Fellows, Ludwick Marishane, was recently selected as one of Google's 12 brightest Young Minds in their inaugural Zeitgeist Young Minds competition. The aim of the competition was to find the pioneers, change-makers and leaders of tomorrow who will take their place alongside the greatest minds and innovators of today, including the world-renowned physicist and cosmologist Professor Stephen Hawking. The winners attended Zeitgeist 2011 from 15 - 17 May, just outside London, where they took part in a series of bespoke master classes hosted by Google.
IT SEEMS THAT, AT LEAST IN THE AREA OF ENTREPRENEURIAL ENDEAVOUR, IT IS POSSIBLE TO BELIEVE IN THE POWER OF ONE
Fellowship news
Since our last update we have completed the 2011 Early Selection process and made an additional 15 conditional Allan Gray Fellowship offers. Learners offered Fellowships come from the Circle of Excellence Schools listed below.
In its sixth year of operation the Foundation has 239 Allan Gray Fellows across seven campuses in South Africa. These numbers do not include the 54 Allan Gray Fellows who have graduated over the last three years, including 30 graduates at the end of last year our class of 2010. Their graduation was hosted in Cape Town, earlier this year, with Mr and Mrs Gray in attendance.
One of the graduates spoke about how the Fellowship had opened up his understanding of the power of purpose, stating: 'There is power in purpose. It's not having a detailed life plan but rather a driving force within. It's something which directs us when we need it most and pushes us just to take the next step.' This was supported by Mr Gray in his address when he encouraged the Allan Gray Fellows to 'pause only a while, you have a great challenge ahead. We can make it possible for you to dream, but it is up to you. It is the goals that you set for yourselves that will drive you forward.'
It is pleasing to note that graduating Fellows have secured jobs at various high quality institutions, including placements at two-thirds of the companies in the South African Graduate Recruiters Association's Top 20 Aspirational Employers of Choice, and some in the form of prestigious international placements.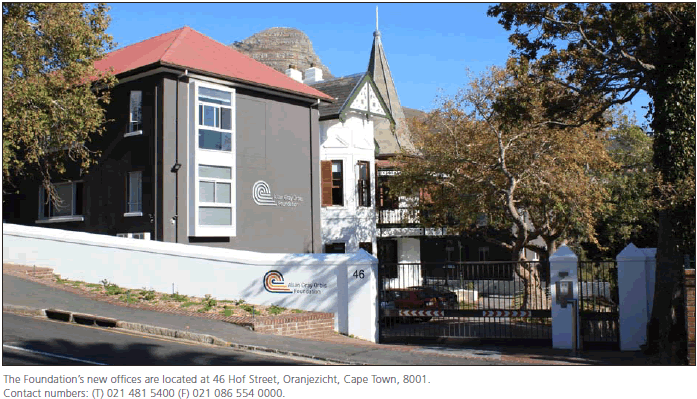 Online entrepreneurial platform
At the end of 2010 the Foundation began the process of establishing an online entrepreneurial mindset development platform based on attitudes distilled from the Foundation's five pillars: Achievement Excellence, Personal Initiative, Spirit of Selflessness, Courageous Commitment and Intellectual Imagination. This has now been introduced to the Allan Gray Fellowship as a learning tool. The platform is known as iShift and allows Fellows to explore and unlock their inner entrepreneurial leadership ability through this self-directed learning system. The Foundation has enlisted the services of Cognician, an innovative software platform that automates complex intellectual tasks by asking thought-provoking questions, to help make this happen. We look forward to the fruits of this initiative as it starts to develop the thinking and mindset of our Fellows.
Allan Gray scholarship
In its fourth year of operation, the Foundation has 124 Allan Gray Scholars across 16 leading schools in South Africa. Since our last update, the Foundation's Scholars' team has completed its selection process for placement in 2012, resulting in 33 additional Allan Gray Scholarships being offered.
We are proud of the individual achievements of the Allan Gray Scholars, including provincial sporting representation, selection for international exchange opportunities and even an offer for one Scholar's writing to be published.
Examples like these give us continued belief in our deep approach with the few; of the 'power of one'. Yet we cannot afford to become complacent in these beliefs and they need to be partnered with action. This drives us to continually refine and improve our programmes in direct partnership with beneficiaries and alumni. Perhaps this was best captured by one of our Fellows at Graduation: 'Entitlement says I deserve your best, but excellence says you deserve my best.'
Early selection candidates come from the following Circle of Excellence Schools
Alexander Road High School
Estcourt High School
Krugersdorp High School
Port Shepstone High School
South African College High School
Bergvliet High School
Eunice High School
Mbilwi Secondary School
Potchefstroom Boys' High School
St Andrew's High School
Capricorn High School
Khanyisa Education Centre
New Forest High School
Pretoria High School for Girls
Umtata High School
* For a complete list of Circle of Excellence Schools, please visit the Foundation's website: www.allangrayorbis.co.za