EXECUTIVE SUMMARY: At the Allan Gray Orbis Foundation we have been given a rare opportunity to focus on individuals and invest in them over the long term. This long-term strategy aligns us closely with the principles prevalent at Allan Gray and Orbis. While our markets are very different, the principles surrounding the growth of capital, be it financial or human, have a lot in common. Anthony Farr elaborates, and gives an update on the Foundations' progress to date.
Over a period of 35 years, Allan Gray has consistently applied a methodology that encourages investment professionals to take a long-term approach when making their investment decisions. This approach has contributed to a track record for its equity mandate that has exceeded the market by 10% annually. A 10% increase in performance, while pleasing, may not seem significant, yet when this performance is compounded over 35 years the result is a portfolio value 21 times stronger than its benchmark (the FTSE/JSE All Share Index) achieved over the same period by the market.
If the Allan Gray Orbis Foundation facilitates a similar 10% improvement in the performance of talented individuals through our focus on education, skills, personal development, entrepreneurial thinking and the fostering of excellence and, more importantly, sustains that incremental improvement over the long term, we believe that the final outcome will be similarly exponential.
Focus on performance
A second principle we have learnt from our associated organisation is that there has always been a focus on performance, not on growing assets. Allan Gray does not set targets for assets under management, the maxim being, if one is able to achieve the performance, the assets will take care of themselves a belief borne out by the fact that Allan Gray is now the largest private asset manager in Southern Africa.
In the context of the Foundation, 'performance' is equivalent to the quality and achievement of Allan Gray Fellows. Assets under management are the number of Allan Gray Fellows in the programme. In the non-profit sector it is tempting to focus on numbers, yet, as Allan Gray has shown, a counterintuitive focus on quality rather than quantity will ultimately end up achieving both in a more sustainable manner.
The achievements of our Fellows inspire us with hope for the future
A number of Fellows have attended youth leadership conferences in both Europe and America. Meanwhile, there were five Allan Gray Fellows out of a total of eight South African applicants up for the Dean's Award for Excellence at the UCT Commerce Faculty. This award requires academic performance at the Dean Merit List level (average in excess of 70%), in addition to all-round excellence. We are also pleased to note that a Student Health and Welfare Centre Organisation (Shawco) initiative to promote enterprise in Khayelitsha, listed six Allan Gray Fellows out of a total committee of seven, including the committee chair and deputy chair.
Graduating Allan Gray Fellows will be heading out into a variety of different careers, including honours study, accountancy articles, international banks and venture capital !nancial houses, while another has been accepted for the Harvard MBA (in two years time).
Finally, there has been a sense of initial completion with two of the graduated Allan Gray Fellows joining the Foundation on a six-month secondment as Fellows-in-Residence. Not too long ago they were bright-eyed students at our initial 2005 Selection Camp; a few short years later they are part of our team adding signi!cant value before heading onto other challenges.
Twenty new graduates
The end of the 2009 academic year sees 20 Allan Gray Fellows graduating from university and our programme, joining the eight who completed last year. While each Fellow has made his/her own unique contribution, one story gives full expression to the intentions behind the Foundation:
One of seven children, this Fellow finished high school in 2005 at Sibusisiwe High School, Mpumulanga, first in her grade of 120 learners, and made her way to study engineering at Wits, the first in her family to go to university. Despite the death of both her parents during her university career, she will graduate this year as one of the very few black female civil engineers in our country, and has secured initial employment next year at one of South Africa's leading engineering firms.
This Allan Gray Fellow was asked to make the year-end speech for the programme in Gauteng. In her speech she expressed much of the Foundations aspirations:
'Our country needs leaders with character, innovation and more than anything a vision to see our fellow South Africans thrive. As Allan Gray Fellows we have been given the responsibility to be drivers of this change. As young and bright as every Fellow here is, the first step to our success is embracing this responsibility. I have been inspired by each one of you, your commitment to your dreams and ambitions, your constant hard work and the way you each see the world. More than anything I've learnt that to inspire others, you must become the change you wish to see in them. The Foundation has provided a more than filling glimpse of what hard work and commitment can achieve we have seen the power that innovative minds wield.'
Good progress in 2009 selection campaigns
Following the early selection campaign, which resulted in 17 initial offers, (see Q2 Quarterly Commentary), the Matric campaign was completed with selection camps in late September. After these camps we offered a further 56 candidates Allan Gray Fellowships for 2010. In parallel, we completed the university selection campaign in early December. This resulted in an additional 23 Allan Gray Fellowship offers, bringing the total new Fellows for 2010 to 79.
Over the last four years we have conducted 18 selection camps at venues ranging from Robben Island to a location in the Dinokeng Game Reserve. They consistently prove to be the highlight of the Foundations' calendar. During these camps, nearly 800 of Southern Africa's most talented young leaders and innovators from four different countries have had the opportunity to test themselves at levels they might never otherwise have experienced. In treating them as future influencers, the Foundation challenges them with a regime that includes idea generation, presentations, case studies, group work, psychometric testing, constant observation, a smattering of drumming, great food and very little sleep. These ingredients create a magic mix of possibility for the candidates as they begin to realise the full potential of their generation's contribution to our region.
I JUST HAD SUCH A SUDDEN FEELING OF PRIDE AND OPTIMISM ABOUT OUR FUTURE HERE!
As one candidate commented after the camp on the Foundations' Facebook page: 'I just had such a sudden feeling of pride and optimism about our future here! If that camp is a true reflection of our generation then South Africa, have no fear! It is incredible how motivated and passionate you feel coming out of that camp!'
Meanwhile, we have started the selection campaign for the Allan Gray Scholars programme for final placement in 2011, having received over 5 000 applications by the deadline date. We will make final selection decisions in the first quarter of 2010, and those chosen will join the current 78 Scholars at the schools listed in Table 1 below.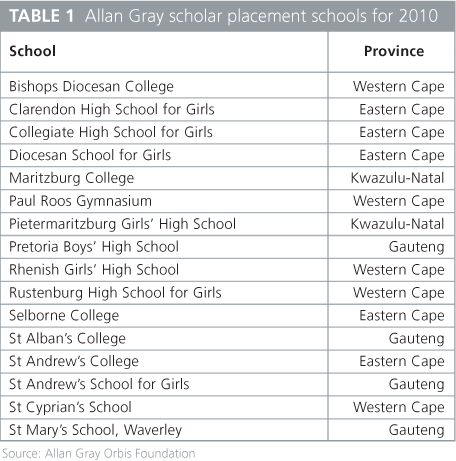 There have also been pleasing developments with our sister Foundations in Namibia and Botswana. Allan Gray Orbis Foundation Namibia (nine current and awarded Allan Gray Fellows and 16 Allan Gray Scholars) and Allan Gray Orbis Foundation Botswana (six current and awarded Allan Gray Fellows) are now fully operational.
Refining our vision
We give constant thought to refining our activities and approach. One aspect that will receive renewed attention in 2010 is ensuring that Allan Gray Fellows are connected to their strengths and passions. The ultimate outcome of this work is encapsulated in the revised vision for the Foundation:
'In the coming years, there will emerge from diverse communities, a new generation of high-impact entrepreneurial leaders. Individuals of passion, integrity and innovation, who will be at the forefront of the continuing economic and social transformation of this region. These individuals will be ambassadors of the power of initiative, determination and excellence, acting as role models so that many more will follow in their pioneering footsteps.'
We know we still have a long road to travel, but the journey thus far has been full and satisfying, and we continue to seek out that additional 10% performance, remaining convinced that consistent application of the identified principles of capital creation will ultimately reap its deserved reward.

Visit our new website at www.allangrayorbis.org
One of our key marketing strategies is to develop a digital presence that will assist us in building stronger relationships with our beneficiaries and other stakeholders. We have thus relaunched our website. The new website, which provides some insights into the Foundation's opportunities, is fresh, youthful and energetic. The layout and structure make it easy to navigate. It has been built for search engine optimisation, as well as harnessing new social media for interacting with the Foundation's bene!ciaries and the public.