In his president's letter, Adam R. Karr, from our offshore partner, Orbis, reflects on the actions that he and the team took during 2022 to ensure they delivered on their priorities. He also touches on how the markets and the Orbis funds fared over the past 12 months and what investors can expect in the year ahead.
What a year! 2022 was a time of pivotal change – in markets, geopolitics, and our firm.
We made measured and decisive changes. I believe the results have been encouraging and we were pleased to deliver capital preservation during turbulent markets and a period of transition. On an asset-weighted basis, relative outperformance across the Orbis Strategies was +10.6% in 2022 after fees and expenses.
It's a step in the right direction, but more work remains. Except for the Orbis Optimal Strategy, which achieved an absolute return of 12% after fees, the outperformance above is in the context of negative absolute returns and is flattered by exceptional performance in a few strategies.
In our flagship Global Equity Strategy, we delivered strong relative outperformance of 9% after fees in 2022 vs. the MSCI World Index, which declined 18%. It was gratifying to deliver this alpha for clients, but we are not complacent. Our Global Equity Strategy has more ground to recover, and there is still much potential to achieve as a team.
Looking back at markets
2022 was dramatic – global equities fell 18% and global bonds were down 17%, their worst decline in the past 100 years. During 2021, the world was awash in liquidity and in the throes of an epic "Everything Bubble" across asset classes. Fast-forward just 12 months and we now find ourselves striving to understand the implications of high inflation, an ongoing war in Ukraine, an energy crisis in Europe, a probable recession in 2023, and a cold war with China.
And, critically, the most dominant factor in markets – massive and unprecedented monetary stimulus – has reversed. The cost of money is soaring, and many prevailing trends of the past decade have broken. Real rates have spiked over 200 bps and equity risk premiums are up sharply. With this sea change, we sit at an awkward juncture with many uncertainties; the bubble has burst but has not fully deflated.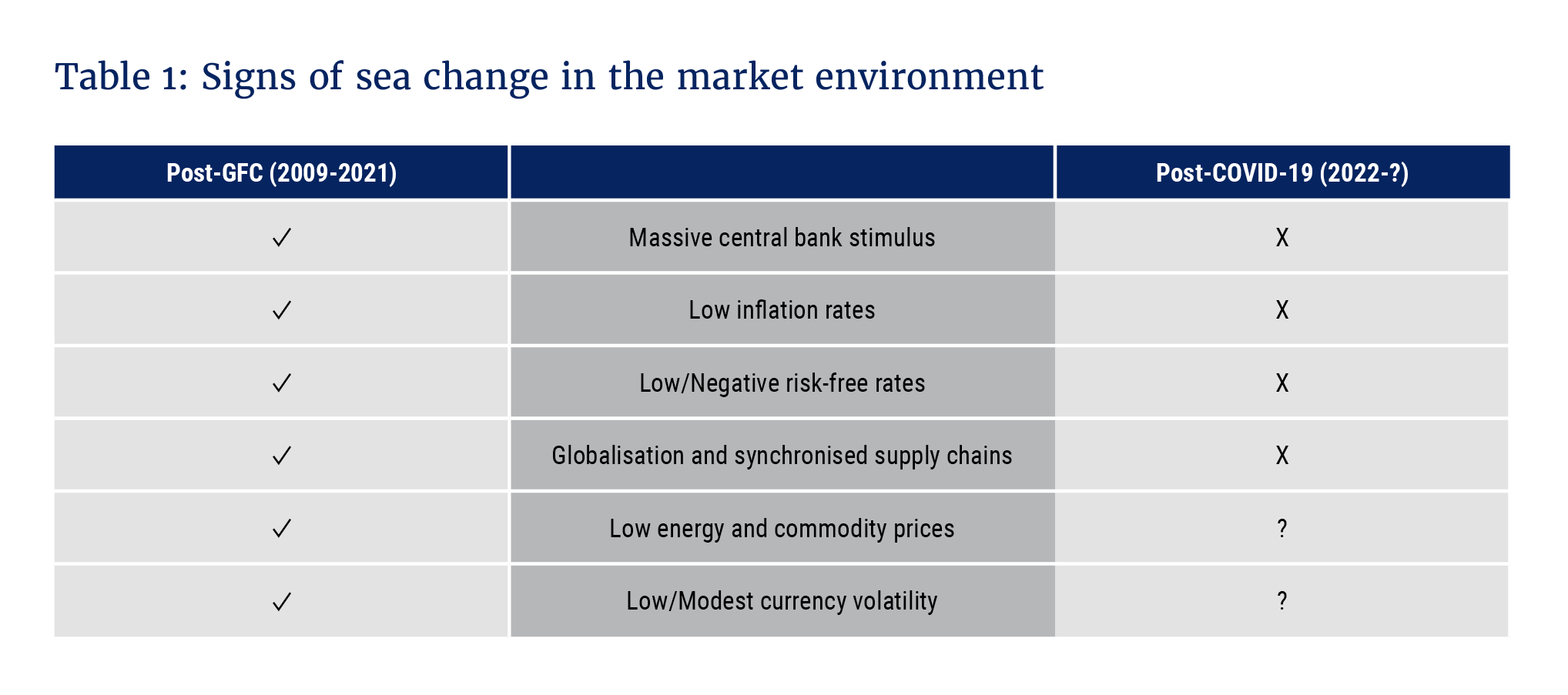 Why I am excited
This is a fertile environment for stockpickers. As I've experienced several times over my career, change and uncertainty bring opportunity. It reminds me of a favourite Ayrton Senna quote – "You cannot overtake 15 cars in sunny weather … but you can when it's raining." Today's uncertain environment is one that suits Orbis and our approach well. Indeed, despite many challenging crosscurrents across markets and the geopolitical landscape, I expect that the ability to generate alpha with a disciplined approach concentrated on fundamental intrinsic value will be richly rewarded.
… there have been few better times for active, high-conviction, alpha-generating managers.
I believe there have been few better times for active, high-conviction, alpha-generating managers. As was the case in the late 1990s, it was a challenging time to be a value-oriented investor as the bubble inflated – but also an incredibly rewarding period in its aftermath as valuations normalised.
We are seeing similar dynamics at play today. I am thrilled to see that price matters once again and the fundamental laws of financial gravity re-assert. Although this market cycle is beyond our control, we are keen to execute and laser-focused on what we can control.
Looking back at our actions
Our relentless focus over the past year has been to improve. You may recall that last year this time I established three clear, tangible investment priorities.
Priority 1 was what I called "Sharpen the saw." This was about prioritising focus and ensuring our portfolios come together as effectively as possible. In 2022, we re-shaped Global's portfolio construction to simplify our decision-making process, empower our best people to focus on their unique strengths, and ensure that the three individuals responsible for managing our Global Equity Strategy – Ben Preston, Graeme Forster and myself – all have a common global remit. Today, we are seeing the whole from a lens of risk and opportunity, capital is moving with appropriate velocity and Global's portfolio has a sharper "identity", with concentrated exposures in areas we find most compelling.
… we've taken decisive steps, which position our clients to win.
Last year's Priority 2 ("Lead with responsible investing") also progressed well. We raised the bar and did so in a differentiated manner that adds value to our research. Our new "Reject Judiciously" principle was put to its first test in March, following the invasion of Ukraine and our subsequent decision to suspend all investments in Russia. We also formed a dedicated team of responsible investing analysts and improved our capabilities, data, and technology. Most importantly, at a time when "ESG" has become a polarising buzzword, I am even more convinced of our approach of thoughtful engagement to help companies improve, be sustainable and drive returns.
Finally, in 2022, we amplified investment in our decision analytics efforts to exploit the insights of the extensive data we collect on our stockpickers (Priority 3 last year). Leveraging third-party decision analytics technology, we cultivated insights to help mitigate behavioural biases. We are embedding these tools in our processes and with our decision-makers. I am impressed with our team's progress here and now consider this a part of our core "stockpicking engine."
None of the above is to suggest that our work is done. I am keenly aware that Global's longer-term performance remains frustrating for many clients – ourselves included. That said, we made considerable progress during 2022 and I am hungry to do more.
Looking forward – what to expect
Kobe Bryant was famous for arriving at the gym at 4 am – hours before most competitors – and logging as many as four workouts per day. The message here is not that hard work guarantees success. To me, it's about sacrifice, obsessive focus and commitment to one's dream or chosen craft. When leading our US team, I would often ask – "what is your 4 am?" – what actions are you taking in pursuit of excellence? The answer is unique to each person in our team but taken together those individual efforts can add up and compound to world-class results over time.
I am excited to build on the momentum we have generated over the past year.
Looking ahead, we will further prioritise and relentlessly execute on what we can control – our skill and execution – to drive performance. In 2023, I plan to narrow our investment priorities to just one thing – continuing to "Sharpen the saw." That means constantly enhancing how we leverage our "stockpicking engine", concentrate capital in the areas at the greatest discounts to intrinsic value, demonstrate agility, prioritise velocity of capital movement in Global and manage risk. We will also continue to advance career pathways for our most promising talent – many of whom are energised by new responsibilities – while at the same time putting in place the human capital resources, tools and simplified structures they need to excel on your behalf.
Our "North Star" is an obsessive focus on what matters most to you – earning your trust and confidence and delivering world-class performance over time. Today's opportunity set is uniquely well-suited to our fundamental, risk-adjusted approach. I have confidence that we have all we need in place to capitalise on it. As one of my colleagues put it recently, "the past 10 years were great for markets but tough for stockpickers; the next 10 may be tough for markets but great for stockpickers". I share this view – and we're showing up at 4 am to ensure we execute on it.
Embracing change
I was often asked in my first year as President what's going to change at Orbis looking forward.
On the investment side, we've taken decisive steps, which position our clients to win. From here, it's about the team relentlessly executing our process. On the business side, our Chief Operating Officer, Darren Johnston, is pleased with the foundations we have laid during 2022. We are simplifying our operational and regulatory footprint, empowering our people, and improving our operating structure with our partner, Allan Gray Proprietary Limited, to extract the benefits for our clients from changes in exchange control regulations in South Africa. Looking forward, as always, we will focus on how to enhance the value-for-money we deliver for clients across our key markets.
It's also worth taking a moment to underscore what's NOT GOING TO CHANGE. As before, the core of what we do remains unchanged. That is our values; putting clients first; alignment; a results-oriented, long-term approach; independent and contrarian thinking; and the discipline of our fundamentals-driven investment process.
Our leadership and our team
I am encouraged by the leadership "trinity" we put in place and our progress over the past year. The structure was designed to amplify our capacity and, thus, enhance our execution. It has delivered on that promise. Our Chairman, Will Gray, is guiding our board and focused on select strategic initiatives, Darren is driving our client and business efforts, and I'm all in leading our investment efforts.
Extraordinary people, relentless alignment, and a culture of high standards are what propel our flywheel.
As we reflect on the past year, I want to give a "shout-out" and thank my colleagues for showing up to deliver for our clients in a remarkable way. Extraordinary people, relentless alignment, and a culture of high standards are what propel our flywheel. It has been energising and gratifying to get up early every morning and go after it with them to make a difference. Much gratitude.
Conclusion
I am excited to build on the momentum we have generated over the past year.
In the spirit of Jeff Bezos' "Day One" letter to his shareholders, I will close by reaffirming my commitment to you:
Our firm's success begins and ends with delivering best-in-class investment performance. As it was on day one, I am certain that what we aspire to achieve will not be easy. But how we show up is in our control and we are determined to deliver. Here is my commitment to you: relentless focus; transparent and direct engagement; entrusting others; a culture of inclusion; the courage to be different; an appetite for feedback; and a willingness to change what isn't working. You can expect me to do my part and to ensure that others do theirs. And we will keep showing up every day for you.
Thank you for entrusting us to manage your assets. With your support, we face the future with confidence.