It is heartening to note that the Allan Gray Orbis Foundation is continuing to achieve its intended impact, despite the challenges faced in these pandemic times. Yogavelli Nambiar, from the Foundation, explains their approach and provides us with an update.
The Allan Gray Orbis Foundation aims to contribute to addressing the inequalities that remain as a result of the country's history, which created massive socioeconomic fractures, including high rates of inequality and unemployment, lack of access to quality education and economic participation skewed by racial and gender demographics. These disparities need to be tackled sustainably with holistic and long-term solutions. Our response of developing entrepreneurial mindsets, while providing a strong grounding in education, is one we believe will fundamentally shift the dial on the above national metrics.
We measure this impact against our "Theory of change", a methodology for planning, participation, and evaluation that is used to define create and measure the change we seek to enable in our programme participants. It defines our programmes' long-term goals and then maps these outcomes backwards to identify necessary preconditions that must be observed and enabled to attain them.
Our programmatic offerings are comprehensive: We start by identifying, assessing and selecting programme participants. We then provide tuition and psychosocial support, as well as personal mastery development, career support, entrepreneurship education, coaching and mentorship.
These interventions enable us to develop responsible and ethical entrepreneurs who support others in their journey and contribute to household incomes. It is our hope that many of these dynamic young changemakers will start their own businesses or social enterprises, enabling them to contribute to job creation and create societal value. Those who do not develop their own ventures will be equipped with the entrepreneurial mindset to add greater value in their respective environments, and to be the ethical and innovative leaders we need.
Long-term commitment
While it is important that we observe and measure our outputs to gauge whether we are on track to achieve these intended outcomes, we have realised that there are many peripheral types of impact that should also be tracked. Key among these is a heightened awareness of programme participants' own ability to contribute to society, starting with contributions to their own community of Allan Gray programme participants and extending to others who could benefit from the social initiatives they create.
Often the Allan Gray Fellow (an individual who has completed the Fellowship programme) is the first person in the family to have an academic degree, and that in itself has a substantive impact on the household. It not only changes the trajectory of their own life – it presents new possibilities for their family and even, potentially, their community.
We are intent on creating a real and lasting shift; in essence, breaking the hold of the generational cycle of poverty
Consequently, this work requires long-term commitment. Far from a quick fix, we understand that to create real change, our approach needs to start early and be enduring. We are intent on creating a real and lasting shift; in essence, breaking the hold of the generational cycle of poverty.
While the mission is clear, the route to achieving it is complex. The nuances of a Scholarship for high school learners, a Fellowship for those at university, an Alumni Association of Allan Gray Fellows – with varying layers and intensities of support over the long term – mean that at any given point, we are attending to the needs of more than 1 000 programme participants (excluding the thousands of high school learners who participate in the Allan Gray Entrepreneurship Challenge, an edutainment platform for entrepreneurship). What is more, each of these individuals follows a different journey, which requires an additional level of customisation.
Easing the journey for our programme participants
The participation of women in entrepreneurship continues to be a concern in this country. We are intentionally addressing this issue with a renewed focus on including more young women in our selection process. Inclusiveness is also driving our efforts to amplify the reach of our programmes to all provinces, instead of only concentrating on Gauteng and the Western Cape.
We are seeing some positive results in this regard: Following a decline in the number of females joining the Association, as interest in entrepreneurship tends to be lower among women, in addition to a higher number of women experiencing psychosocial issues and societal barriers, the support put in place by the Foundation to mitigate these challenges has seen 57% of the Alumni community now being represented by women.
Entrepreneurial intent
It is also worth noting that the Foundation does not position itself as an incubator, where would-be entrepreneurs are able to hone their ideas; instead, we are hoping to nurture an entrepreneurial spark that we have identified within a specific individual who may not necessarily have considered entrepreneurship as a career option were it not for our intervention.
Viewed from a different perspective, our goal is to unleash the potential and energy of many entrepreneurs and entrepreneurial leaders. Currently, 33% of our Fellows are pursuing entrepreneurship as a career, with 21% of our Candidate Fellows (university beneficiaries) also having set up business ventures that are in operation. Figure 1 shows the entrepreneurship rates of all our programme participants. The entrepreneurship rate tracks the entrepreneurial activity of programme participants across the different year groups. That is, it measures the actual number of individuals who have either set up a business or have identified a business idea they would like to pursue within the next seven years.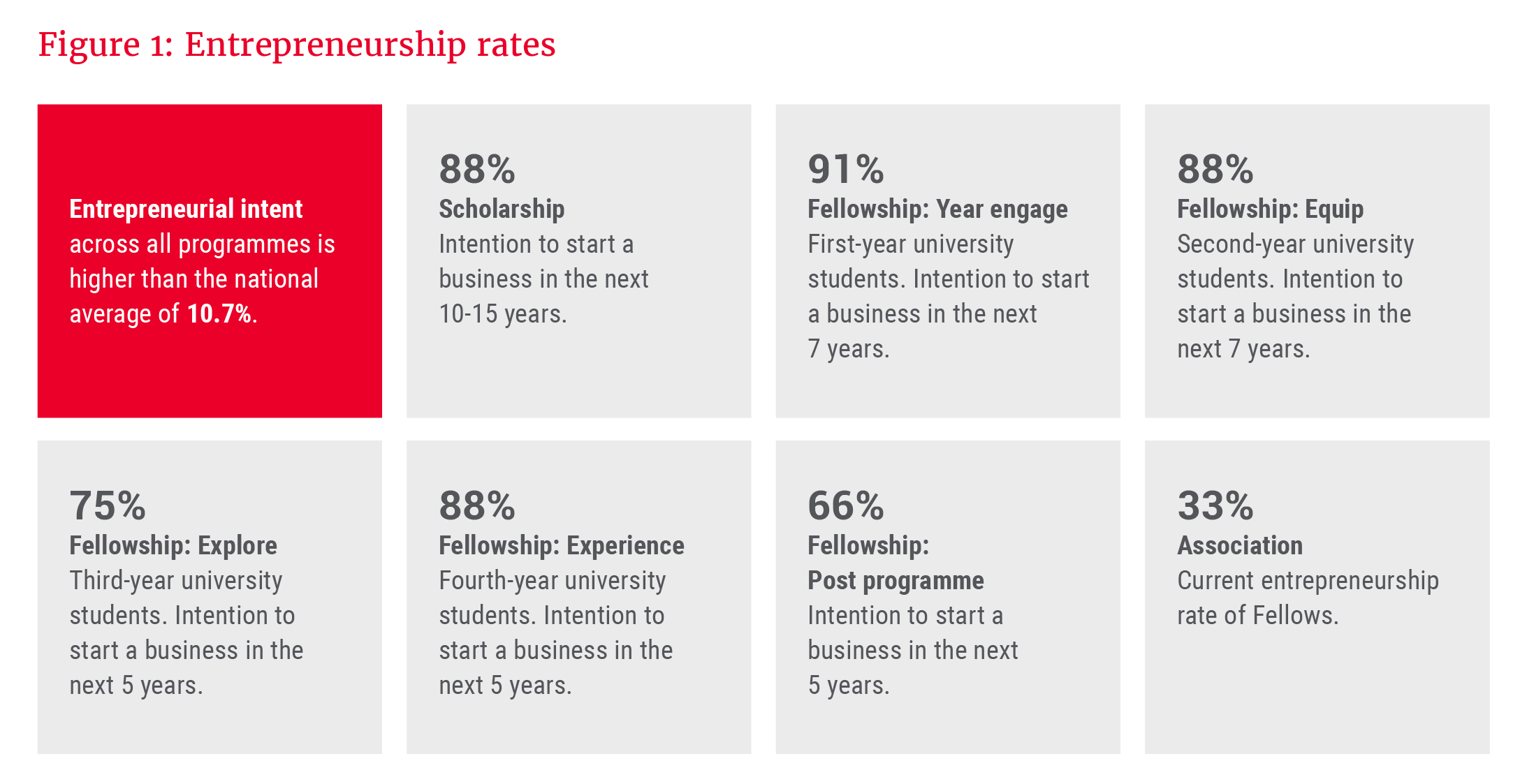 Graduation rate
We are proud to note that the graduation rate of Foundation participants stands at 84%, compared to the 54% national graduation rate. Of course, our participants have several advantages: Not only do we select individuals who are academically brilliant – we also ensure that they are placed at excellent schools where this brilliance can be nurtured.
Not only do we select individuals who are academically brilliant – we also ensure that they are placed at excellent schools where this brilliance can be nurtured
In addition, having observed some of the challenges our programme participants face, including mental wellness and adapting to remote learning, we believe that our influence makes it possible for them to achieve even better pass rates, and empowers them to step into the world of entrepreneurship and work with greater confidence.
Fast-tracking the journey to entrepreneurship
The number of participants in our Ideation, Validation and Creation (IVC) programme has increased to 116 from 65 in 2020. This is a solid indication that we are well on our way to reach our goal of fast-tracking the entrepreneurial journey.
The IVC programme is also an important predictor of success, because the increase in the Fellowship pipeline inevitably impacts the Association. This, in turn, is significant because of the potential impact of our Fellows' actions – as demonstrated by the 573 jobs created by our Fellow entrepreneurs.
The way forward
Achieving our desired impact during these uncertain times requires that we sharpen our programme delivery to ensure that we are as effective as possible. This, in turn, means that we have to use the resources at our disposal optimally. We need to guard against wastage in this beleaguered economy and ensure that our model is the very best to help us reach our goals. If we are to future-proof our organisation and remain sustainable, we have to keep interrogating ourselves, finding where we can hone our model, and uncovering better ways of using those resources.
That said, we are proud of our achievements to date, as illustrated in Figure 2. We have come a long way since inception.